Model y
The Model Y comes in two main configurations, both of which are all-wheel drive. The Long Range, which starts at $49,990 and offers 316 miles of range, and the Performance, which starts at $59,990 and offers 291 miles of range. The Model Y is bigger, heavier, and less aerodynamic than the Model 3 so it's a little bit slower.
If you're a Model Y owner, check out our list of top accessories for the Model Y. To learn more about Tesla's Model Y, visit their website here.
Pictures of Model Y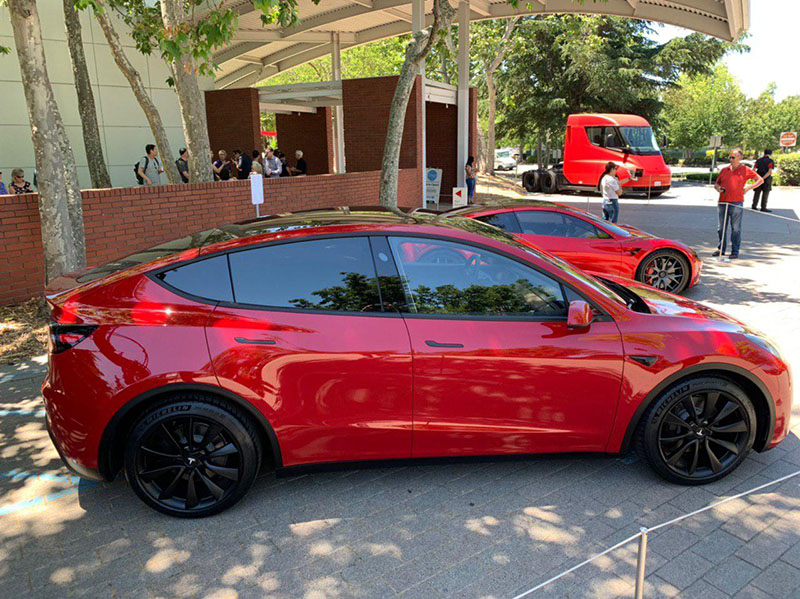 Blog posts related to Model y
Videos about Model y
Tesla Model Y Camp Mode
Taking the Tesla Model Y camping just got more comfortable. We got our hands on a 6 inch thick memory foam mattress that fits perfectly in the back of the Tesla Model Y.
Tesla Model Y Durability Test - Off Roading on Arctic ICE
Today we find out how durable the new Tesla Model Y is... on ICE. Tesla invited me out to Alaska to see how they test their electric vehicles in extreme temperatures. I dont think most people are going to take their new vehicles offroading through the Alaskan Tundra, but... its good to know the Model Y can handle it.
Tesla Model Y Review Follow-up: More Detail on Price, Interior, OTA Updates, and More
Tesla fans had a lot to say about our first impressions video on Edmunds' new long-term test car: a 2020 Tesla Model Y Dual Motor Performance. Here, Carlos Lago addresses an error or two, adds clarity to the first video, and answers some of your most frequent comments, including those about price, storage, phone integration and additional controls.
Tesla Model Y/3 Orientation! Complete Center Screen Walk-Through
So many people have had questions about how the center screen works and what it can do since Tesla is currently doing contactless deliveries. So here is the orientation that I have given so many people about all the functions!
What's different about the Tesla Model Y from Model 3
In this video I wanted to help show some of the unique information I was able to find through pictures and the User Manual for the Model Y.
Past Tesletter articles