Referral program
Tesla's referral program has changed over time. At the moment, you and anyone using your referral link can each earn 1,000 miles of free Supercharging with the purchase of a new Tesla car — designed to be some of the safest cars on the road. Each car referral also gives you a chance to win a Model Y monthly or Roadster supercar quarterly.
To use a referral code, you actually don't need a code. Just use your referral's personalized URL when placing your order online All Tesla owners have a referral code. It can be found in the Tesla mobile app in the "Loot Box." If we have been helpful to you in any way, we'd be honored if you used our referral code http://ts.la/ignacio9266
Pictures of Referral Program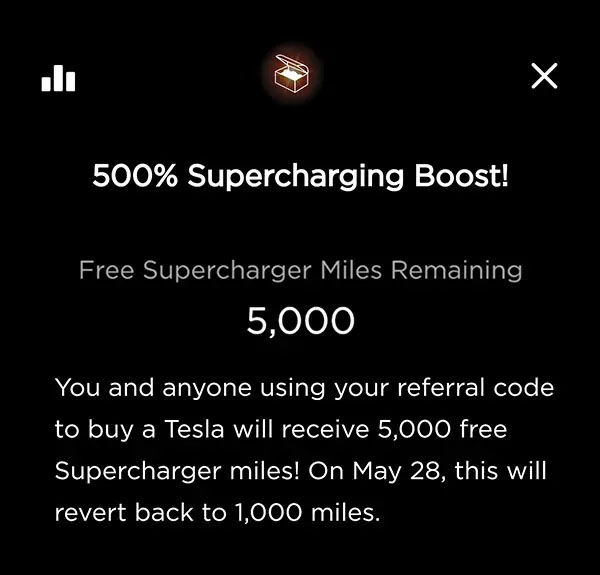 Videos about Referral program
2019 Tesla Referral Program
The new 2019 Tesla referral program launched today March 21 2019. What does it mean now? What can you earn? What can you get?
Tesla Model 3 Referral Program - Referral Miles Explained
In this video, I explain how Tesla's free supercharger miles referral program works. It isn't the most straight forward way of giving out free miles, but the more referrals you get, Tesla does give you more benefits than they need to because they appreciate the business
Tesla's Referral Program Back & Better Than Ever
Latest changes in the Tesla Referral Program (March 2019) explained by Tesla Kim.
The Tesla Referral Program in 2020
The Resla Referral Program Returns! What do you guys think about the return of the #Tesla referral program?
Past Tesletter articles