Last update: March 10th. It's been a couple of weeks since Tesla started sending out delivery confirmation emails to Model Y reservation holders (both with Performance and LR AWD configurations). No dates have been shared yet for the first deliveries, but Model Ys have already been spotted on their way to their future owners.
---
Update: Jan. 29th: Today, Tesla presented the results of the Q4 2019. A few things were confirmed about the Model Y specs and deliveries:
Model Y production started in Jan. 2020, ahead of time
Deliveries will start by the end of Q1 2020
Increased AWD EPA range to 315 mi (from 280 mi)
Updated rims in the Performance Model
---
Since Tesla unveiled the Model Y in March of 2019, owners who have put down a deposit- like ourselves!- are asking when will they start being delivered. Here's what we know.
Model Y deliveries starting in two weeks? (End of Jan 2020)
Some people are saying on Twitter the Model Y will start being delivered to Tesla employees as soon as in two weeks (end of January or beginning of February 2020).
On Reddit, u/Quaf4 user from Oakville, Ontario, has shared that he has received a call from Tesla to guide him through the upcoming delivery process for his Model Y. Dates shared are:
Model Y Performance AWD starting deliveries next month (Feb 2020)
Model Y Long Range AWD deliveries expected in March/April 2020
All other configurations (including 3rd row) in Q3 2020
We can't confirm this information ourselves, but what it is true is that in the last few days, more and more Model Ys have been spotted in the wild in multiple places.
This makes us think that Tesla is going to start delivering the first Model Y really soon. But this is not all, as we shared in Tesletter's issue #94, Tesla recently published the Model Y CARB certification. Two important highlights from this action:
Imminent deliveries. According to Twitter user @AlterViggo "Tesla signed the LR RWD Model 3's certificate on July 3, 2017. That was 25 days before the first deliveries on July 28". So this is another reason to believe deliveries of the Model Y will start at the end of the month.
Stellar range. The UDDS in the CARB certificate of the Model Y Performance AWD is just slightly higher than the Model 3 Long Range Performance AWD. Although the UDDS in the CARB certificate doesn't reflect real-world range, according to Twitter user @hoonable "It roughly translates to real world city range with a multiplier of 0.7 so this would mean an estimate of around 309 miles of city range for the Model Y". This is very close to the 310 mile range of the Model 3 Performance AWD, and the Model Y Performance AWD is currently listed on Tesla's website with 280 miles of range. In theory, this makes sense because the Model Y could be expected to be heavier than the Model 3, which would have an impact on range.
However, we believe there may be surprises and Tesla could actually deliver a more efficient vehicle due to the improvements introduced with the new Unibody with a new wiring architecture and a low drag coefficient. We shall see.
Oficial timeline
Tesla announced they'll start production of the Model Y in the fall of 2020. However, a few months ago, Elon Musk said on Twitter that they will actually start in the summer. Things seem to be going smooth and faster than planned, so we're hoping to see the first Model Ys delivered in the Bay Area really soon.
Earlier this month, Elon Musk has announced Tesla's plans to start production of the Model Y in China (Gigafactory 3), but other than that, they haven't shared much.
Today, and according to Tesla's website: "Model Y production is expected to begin in late 2020 for North America, and in early 2021 for Europe and China. Standard Range production is expected to begin in early 2021 for North America, and in early 2022 for Europe and China."
Note that the third row (seven-seater) configuration is also planned (at least officially) for 2021.
I have a Model Y reservation, when can I expect to take delivery?
Based on what happened with the Model 3 reservations, chances are that if you're in the Bay Area you'll be up in the list no matter when your reservation was made.
Having said that, the order in which Tesla will start deliveries of the Model Y is:
Performance
Long Range AWD
All other configurations
Europe and China will come after Performance and Long Range models in North America, but with the latest news about Tesla starting production of the Model Y at the Gigafactory 3 in China, this may change too.
Stay tuned, we'll update this article with more information as we find out more about Tesla Model Y deliveries.
And while you're waiting… this is what we know about the Model Y
Just like in the Model S (but unlike the Model 3), the glass roof doesn't have a cross beam. As a Model S owner, I really like this change.
Seats sit in risers, and are just like the Model 3 ones but higher.
People who have seen it in person (and have also seen the inside) claim that it really is roomier than the Model 3. From the outside, it also looks like so:
Model Y next to a Model X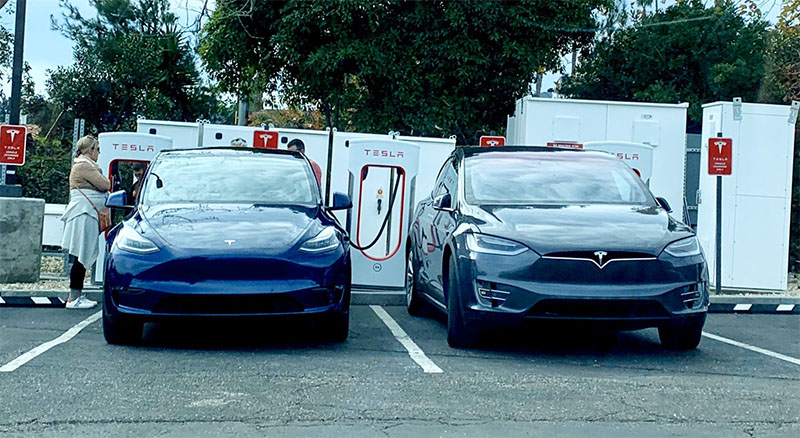 Source:
@mickthughes on Twitter
Model Y next to a Model 3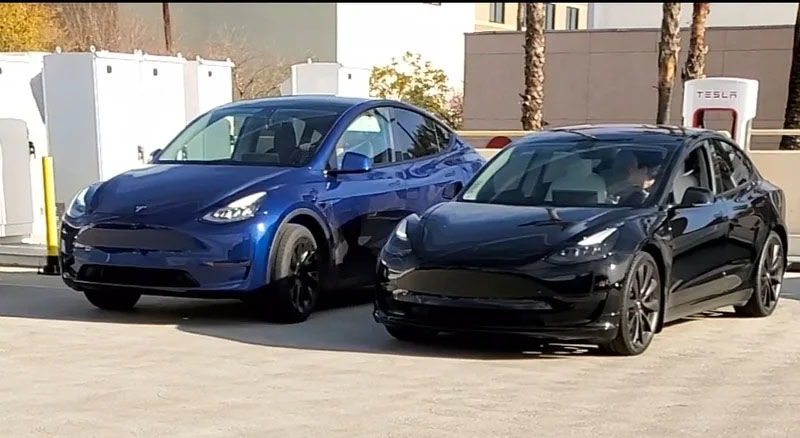 Source:
u/an_awkwardhuman on Reddit
As we expected, the third row is kind of small. Good enough for small children, if you ask me. And nice touch with the cup holders.
For the Long Range models that can already be pre-ordered on the website, pricing will range from $48,000 for the rear-wheel drive Long Range model to $61,000 for the Performance model.
For more information, check out the Model Y page and FAQ on the Tesla site.
Have questions? Reach out at contact@tesletter.com
Have you not ordered your Tesla yet? Use my referral code http://ts.la/ignacio9266