If you are just now finding out about Tesletter, you can subscribe here!
If you already know Tesletter and want to support us, check out our Patreon page 🙏
Issue 101 - To upgrade or not to upgrade, that is the question
The Infotainment upgrade for owners with MCU1 is finally available. We have so many questions… should we pay for the upgrade? When can we get it? Is it required for the Hardware 3 (FSD) upgrade? We have shared everything we know in this article.
Read more: Tesletter
TeslaBros is rebranding to TESBROS and opening an Amazon Store. To celebrate the launch, they are offering their Chrome Delete Kits at an awesome price:
Model 3 Chrome Delete Kit: $139.95
Model S/X Chrome Delete Kit: $149.95 (US only)
We recently installed the Chrome Delete kit in our Model S- we'll be publishing an article soon- and couldn't be happier about it, it looks amazing! I'm not going to lie, it takes patience. But once you get the hang of it, smoothing the vinyl almost becomes therapeutic.
You may have heard rumors that the Hardware 3 (FSD) retrofit is not going to be possible without MCU2. According to Bonnie Norman- well known for having reliable sources at Tesla- the rumors are not true. She has confirmed with Tesla that it is going to be possible. It's just not available at the moment.
We've been in touch with our Service Center and they told us they're prioritizing Hardware 3 (FSD) + MCU2 upgrade at the moment. No dates shared for Hardware 3 (FSD) +MCU1 yet.
Read more: Twitter
More news about the Model Y confirmed this week. It comes with power liftgate buttons, something that most Model 3 owners wish their Tesla had (we love it in our Model S), and an extra 12V socket in the back. Nice to see these in the latest Tesla Model that is starting deliveries this month.
Read more: Twitter
The new Model X Long Range Plus is here. Or at least this is the first one I've seen online. Thank you chadever for sharing! Check out the wireless charger and the battery charged up to 351 miles.
Read more: TMC Forums
Fun video of the Tesla Performance family (3, S, X) in a drag race, a rolling race, and a brake test.
Look at the differences of the Dashcam images from with HW2.5 and HW3, the new computer is powerful enough to be able to process uncompressed (minimally compressed) video. Some folks are saying the image got worst with HW2.5 when the fourth camera was introduced. In any case, it's only looking better and I can't wait to get my upgrade!

Read more: Reddit
Crossing the $100 per kWh would allow electric vehicles to reach price parity with ICE vehicles. Tesla also looks to bring its battery cell production in-house and enable rapid mass production. The plans are for these new battery cells to make it to the vehicles first, and they would allow them to achieve a longer range without using more batteries. Not sure how this project will interact with Tesla's plans to soon release a 110 kWh battery pack with over 400 miles, we shall see.
Read more: Tslatimes
New Performance package for the Model 3. It includes track-focused brake fluid, high-performance brake pads and 20" Zero-G Performance Wheels (which may affect range). Costs $5,500.
On top of that Tesla is releasing the Track Mode V2. In this version, they're giving the driver a lot of freedom to tweak how the car responds and other interesting features like recoding video, built-in-lap timer, and more.
What do you think? I personally think that those rims look 🔥🔥🔥 See it in action on a track.
It's not the first time that Elon Musk mentions they're working on rewriting the core foundation code of Autopilot, he recently shared on Twitter that after that and 3D labeling, reverse Smart Summon (AKA Smart Autopark) will be available soon.
Read more: Twitter
After a few of you gave us the idea on Twitter, we've decided to make it happen. We're going to extend the mosaic with more pictures (submit yours here!) and make the poster available for purchasing online soon.
This poster represents the Tesla community, that is why we're planning on donating the profits to our local Tesla Owners clubs @teslaownersSV and @TeslaOwnersEBay.
More on where to purchase the poster soon!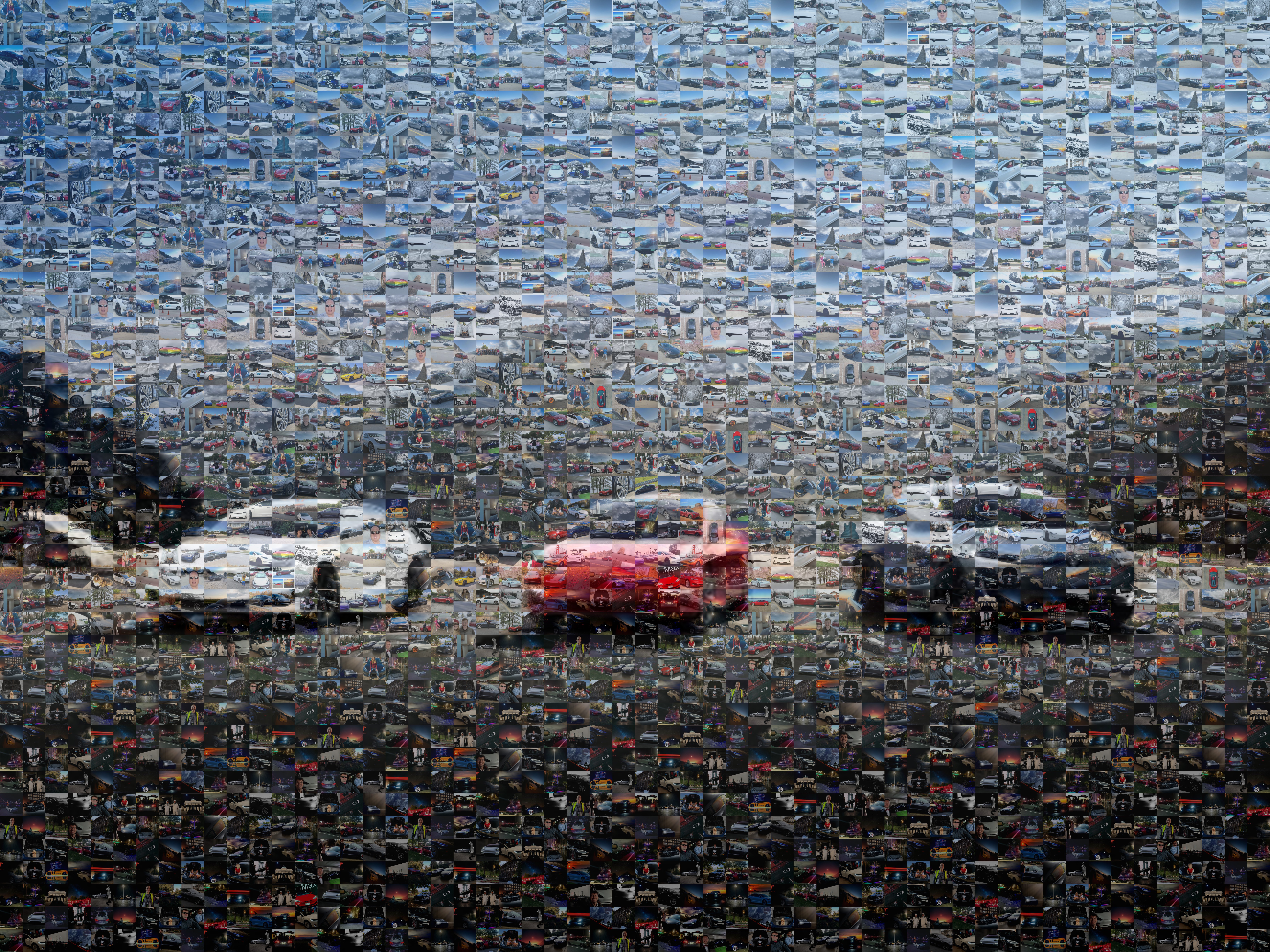 Producer Supporters
---
What the acronym?
As Tesla fan I find myself sometimes having to remember what are all those acronyms, here is a list of the ones you can find in this issue.
MCU1 - Media Control Unit. Version 1 has an NVIDIA Tegra-3 chip. All Model S and Model X built before the end of March 2018 have this version.
MCU2 - Media Control Unit. Version 2 has a more powerful Intel x86_64 processor. All Model 3 have this version as well as the Model S and Model X built after the end of March 2018.
FSD - Full Self-Driving
HW3 - Autopilot hardware manufactured in/after February 2019 for Model S / Model X, and in/after April 2019 for Model 3
TMC - Tesla Motors Club
kWh - Kilowatt an hour (kilo=1,000; 1kWh = 3-4 mile range)
ICE - Internal Combustion Engine. A popular way of referring to gas cars in the Tesla communities
---
Support Tesletter
Tesletter is put together by
Ignacio
and
Vanessa
. We're really grateful for all the love and feedback we receive. Special thanks to our
supporters
. If you like what we do, please consider supporting Tesletter. All the funds will go into making Tesletter more awesome.