If you are just now finding out about Tesletter, you can subscribe here!
If you already know Tesletter and want to support us, check out our Patreon page 🙏
Issue 84 - 2019.36.1 Explained
Tesla started (and already stopped) releasing 2019.36.1. This release is one of the biggest in terms of excitement about the features being made available, but it's also quite complex to understand who gets what since different motors, AP hardware, and other stuff play an important part in it. We created a comprehensive guide to summary what is in the release and what your Tesla will get, we hope you find it helpful!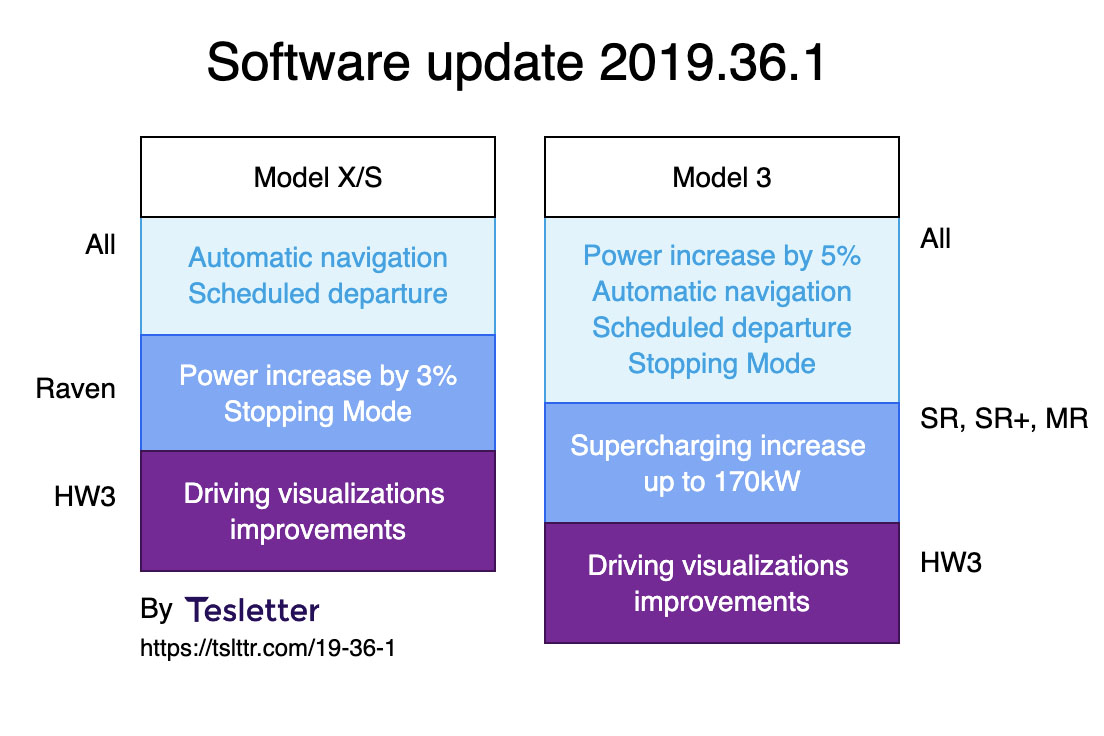 Read more: Tesletter
If you're in looking for a USB or some sort of storage for Sentry and Dashcam videos, we got you. PureTesla offers multiple options on their website, they all come preconfigured and ready to use. And as a big plus, they offer excellent customer service. Here's a couple of popular options: USB/MicroSD configured for TeslaCam and Sandisk iXpand for iOS.
Kettleman City is for sure at the top of my favorite Superchargers. If you happen to be in California and drive close by, stop for a quick charge and a latte. This week this Supercharger is getting even more awesome since Tesla started converting its stalls to V3. It's great news that soon- maybe even on time for Thanksgiving?- we will have 40 V3 Superchargers between LA and SF!
Read more: Reddit
We're starting the month giving away a SnapPlate for your Model 3. Easy to install and remove and Autopilot-safe, thank you SnapPlate for partnering with us! Check out pinned tweet to participate. We'll announce the winners next Wednesday. Good luck!
Are you as excited as we are?

If you have been a subscriber for some time you might remember when we talked about Tesla using Open Street Map for information like speed limits. Well, it turns out that they also use Open Street Map to calculate the best route when using Smart Summon, but what's more interesting is that in the case of Smart Summon they pull that information in real-time, not like in the maps where you need to download a new version to get the new speed limits, etc.
Read more: TMC Forums
No, this isn't the type of bed for kids with the shape of a Model S, although that would be amazing! This guy built a custom bed for the back of his Model S.
[Nerd post alert] Have you ever asked yourself how the NFC cards for the Model 3 actually work? This Reddit user has reversed-engineered his Tesla NFC card and discovered a bunch of information about it. First and most importantly, these cards are pretty secure; the other finding that I think is interesting is that the author believes he can use the Tesla key card to authenticate in other devices, like building access.
Read more: Reddit
Who doesn't like to recharge batteries with a cup of coffee or [insert here your favorite beverage] in the morning? Now you can do that with one of these awesome mugs ☕️
Since our cars can be accessed with our username and password, having a robust system is required. After months of many owners asking Elon to implement two-factor auth, he finally said on Twitter that it's coming soon. Hopefully, as they do this they add some real OAuth for Tesla accounts since a decent number of 3rd party apps use their API. Thanks Elon!
Read more: Twitter
At least this is what memetz from TMC was told when decided to contact support to ask for the option. According to the support agent who replied to memetz's message, "Once logged in you will be able to view pricing and availability for the upgrade once it becomes available. There will also be a communication of its availability once available."
Read more: TMC Forums
Check out the complete list of Tesletter's supporters.
Would you like to become a sponsor or promote your product in this email?
[Get in touch!](mailto:[email protected]?subject=I'd like to learn about sponsorship options)
---
Support Tesletter
Tesletter is put together by
Ignacio
and
Vanessa
. We're really grateful for all the love and feedback we receive. Special thanks to our
supporters
. If you like what we do, please consider supporting Tesletter. All the funds will go into making Tesletter more awesome.