If you are just now finding out about Tesletter, you can subscribe here!
If you already know Tesletter and want to support us, check out our Patreon page 🙏
Issue 46 - Sentry mode & Dog mode
Yesterday, Tesla started rolling out Sentry Mode to further enhance the security of its vehicles. M3 are going to be the ones getting it, followed by MS and MX vehicles that were built after August 2017.
The way it works is it continuously monitors the environment around a car when it's left unattended and uses the external cameras to detect potential threats. The feature has different states 'Standby', 'Alert', and 'Alarm'. 'Alert' shows a message in the screen telling the bad guys that cameras are recording and 'Alarm' activates the car alarm and notifies the owner that an incident has occurred.
Read more: Tesla
Set a cabin temperature to keep your dog comfortable while letting passersby know they don't need to worry. That dog animation on the screen is really cute!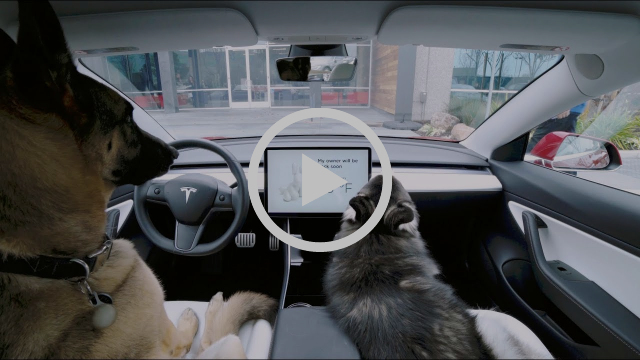 Remember when we said you need to select your awards by April 1st otherwise you'll lose them? Never mind, do it as soon as possible, as the deadline has changed to February 28th, 2019.
Read more: Tesla support
If you happen to be charging your battery when left with 121 miles, a dialog box appears in which you can select to turn "Time Circuits On". The app screen then changes to a whole bunch of Back to the Future references.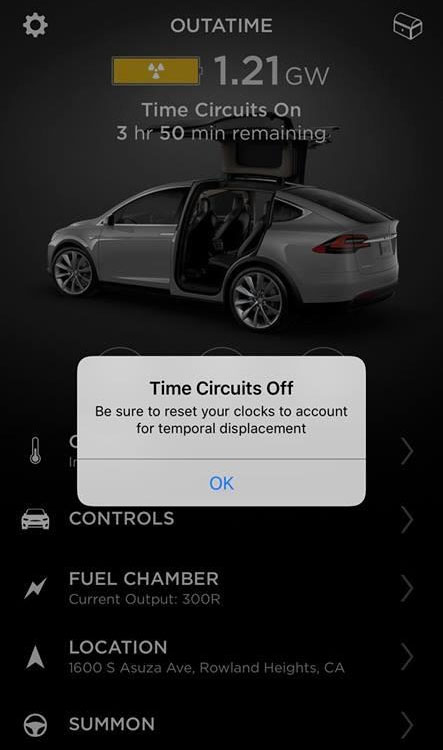 Read more: Reddit
Tesla released 2019.4 over the weekend to what it seems a small group of Model 3s. The new features are:
Blind spot warning chime: In addition to the red line the car, it would also have an audible chime if there is an obstacle in your target lane
Auto-Folding mirrors based on location: You can know remember when to fold an unfold your mirrors, perfect for narrow garages!
Read more: Twitter
During the Q4 investors call Elon said that "service is his number one priority".
"I want to note that one of our major priorities this quarter is improving service operations. Really, from my standpoint, when I think about what my priorities are this quarter, it's improving service in North America."
Read more: Electrek
The new CCS superchargers are fast, look the graph of this Model 3 in FastNed (Netherlands).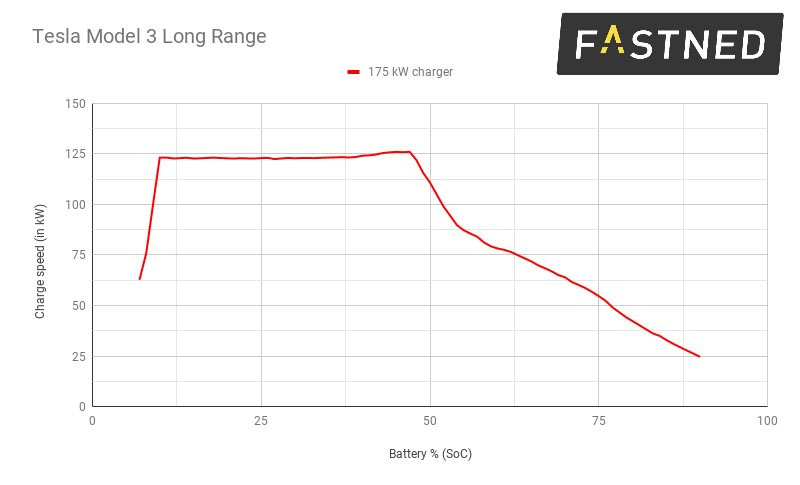 Read more: Reddit
u/pdobb2101 found out that his Progressive Auto Policy gets ~$90 cheaper over my 6-month by activating the "Smart Technology Discount" which basically seems to be a synonym for Automatic Emergency Breaking. This isn't available in all states, so check the Reddit post to know if your state is in the list. Thanks u/pdobb2101 for sharing!
Read more: Reddit
What the acronym?
As Tesla fan I find myself sometimes having to remember what are all those acronyms, here is a list of the ones you can find in this issue.
M3 - Model 3
MS - Model S
MX - Model X
CCS - Combined Charging System
PSA - Public Service Announcement
---
Support Tesletter
Tesletter is put together by
Ignacio
and
Vanessa
. We're really grateful for all the love and feedback we receive. Special thanks to our
supporters
. If you like what we do, please consider supporting Tesletter. All the funds will go into making Tesletter more awesome.