If you are just now finding out about Tesletter, you can subscribe here!
If you already know Tesletter and want to support us, check out our Patreon page 🙏
Issue 28 - V9 rolling out to the fleet
v9 has started to roll out to the fleet this week with a couple of important announcements:
Navigate on AutoPilot has been removed for now and it is on testing. It could be back in "a few weeks"
The roll out is only happening in the US and Canada, it seems like Tesla needs to work on the translations and some other localization issues like right-hand drive
Read more: Tesla Blog
Starting from Oct 5th Tesla has made several changes to their referral program:
People purchasing Teslas with a referral code will get $100 in Supercharging credit
All Model 3s can now take advantage of it
The list of referral awards has changed, a couple of the new additions are: 1st referral gets you your photo launched into space and 4th gives you priority access to vehicle software updates
If you are thinking of buying a new Tesla and we have been useful please use our referral code
Read more: Tesla Referral Program
The dash cam feature stores data in one minute clips of ~30 megabytes each. However, FAT32 has a limit of 32GB, so that's the maximum you can plug in without partition it.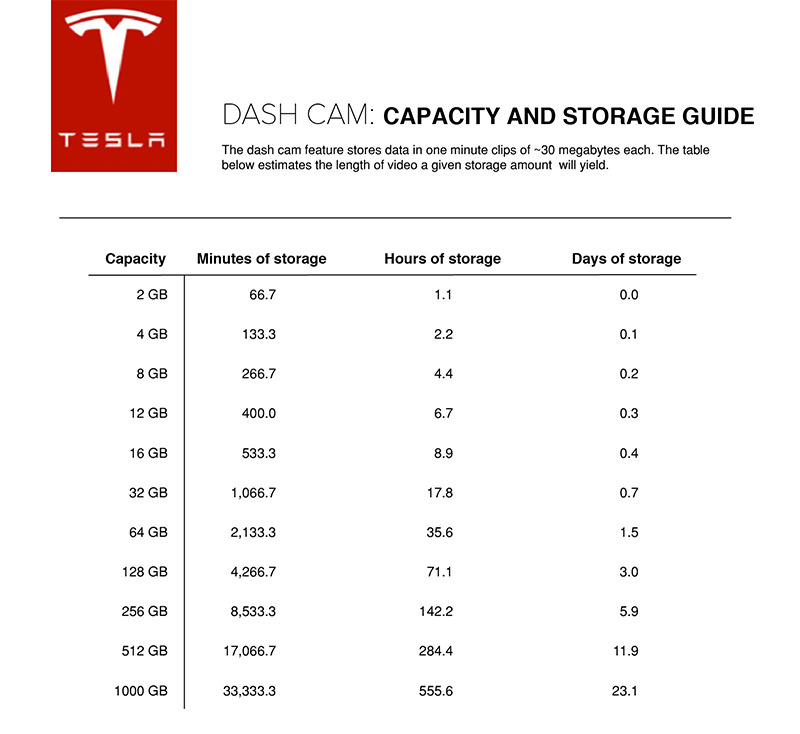 We recently bought these set of mats for the trunk and we're so happy with the purchase. They seem to come directly from Weathertech (the company that manufactures them for Tesla) and they cost only $135 (they cost $200 if you buy them on the Tesla website). As you can see they look legit and they fit perfectly. If you are in the market for some all-weather mats now that winter is coming, these are great ones.
Pre AP Tesla owners are not only getting the ability to start the navigation in their car by the mobile app and the new UI, but they're also getting:
Chill mode (although present in the UI multiple people report that it actually doesn't do much)
Speed limit mode
Read more: TMC Forum
drfrank explains how to setup a Raspberry Pi Zero W so that your Tesla thinks it's a USB drive and writes dash cam footage to it. You can configure it so when you get home the Raspberry Pi connects to your WiFi and uploads your cam footage to your server. Pretty cool, uh?
Read more: Reddit
A while ago Elon said that MCU1 cars could upgrade to MCU2 in the future. Today we're still waiting as this may or may not happen. When I first read about it I thought why not, at the end of the day it's just a computer upgrade, but Tozz explains what it actually means:
The MCU2 upgrade requires the following changes:
Obviously, a new MCU2 (expensive part!)
New IC screen. In MCU1 cars the IC (screen behind wheel) is a separate computer with its own CPU/RAM/etc. With MCU2 its just a second screen to the MCU. So IC needs to be replaced.
MCU2 has 5G WiFi that needs an additional antenna to the mirrors
MCU2 has Bluetooth in the mirrors, and it also requires additional antenna
New wiring harness. IC screen, antenna's, and perhaps change of connectors requires a new wiring harness
Read more: TMC Forum
The current version of the dash cam only records when the car is on but beastpilot has found and shared a workaround that would let you trigger the recording from your app. The dash cam would start recording by just turning on the climate control from the app. According to greentheonly (vergreen on TMC) turning on the A/C usually keeps the rest of the car on as well.
Read more: Reddit
For new decals you get the full partial year you apply plus 3 years before it expires. If you apply in January 2019 you will get 3 years and 11 months of HOV access expiring in Jan 2023. Again, this only applies to new ones and not people who already got one on 2017 / 2017. Quote from the California's Clean Air Decals website:
"Any decal originally issued after January 1, 2019 expires three full years plus the partial year from when the decal was issued. All decals expire on September 30, 2025."
What the acronym?
As Tesla fan I find myself sometimes having to remember what are all those acronyms, here is a list of the ones you can find in this issue.
V9 - Version 9
AP - Autopilot
UI - User Interface
MCU - Media Control Unit (touchscreen)
MCU1 - Has an envidia NVIDIA Tegra-3 chip. All Model S and Model X built before end of March 2018 have this version.
MCU2 - Has a more powerful Intel x86_64 processor. All Model 3 have this version as well as the Model S and Model X built after end of March 2018.
IC - Instrument Cluster
CPU - Central Processing Unit
RAM - Random Access Memory
TMC - Tesla Motors Club
PSA - Public Service Announcement
HOV - Hight-Occupancy Vehicle
---
Support Tesletter
Tesletter is put together by
Ignacio
and
Vanessa
. We're really grateful for all the love and feedback we receive. Special thanks to our
supporters
. If you like what we do, please consider supporting Tesletter. All the funds will go into making Tesletter more awesome.