If you are just now finding out about Tesletter, you can subscribe here!
If you already know Tesletter and want to support us, check out our Patreon page 🙏
Issue 49 - V3 Supercharging & Enhanced Summon
According to a tweet from Elon and other sources, the March 15th release would include unprompted NoAP as well as enhanced summon.
The community has had mixed experiences with NoAP. We hope the new version comes with a much better system but just in case we recommend folks to start testing it with confirmation until they have a high level of confidence in the system.
See more: Twitter
Here are some highlights:
It supports peak rates of up to 250kW per car
Model 3 LR can recover up to 75 miles of charge in 5 minutes
Charging rates of up to 1,000 miles per hour
Designed to enable any owner to charge at the full power their battery can take, no more splitting power with a vehicle in the stall next to you
V3 Supercharger will drop the typical charging time to around 15 minutes
On-Route Battery Warmup. Now, whenever you navigate to a Supercharger station, your vehicle will intelligently heat the battery to ensure you arrive at the optimal temperature to charge, reducing average charge times for owners by 25%
Model S and X charging speeds will increase via software updates in the coming months
See more: Tesla
Tesla just changed the definitions going forward but announced that customers who already purchased EAP will still get those features even though now are only included in the FSD package. Thanks Troy Teslike for the visualziation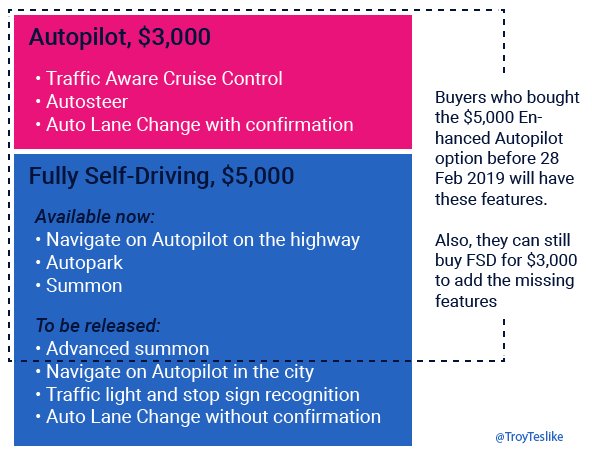 See more: Tesla
This feature is rumored to go out with the March 15th release. Electrek has learned that Tesla has pushed the feature to its early access fleet.
According to Electrek's source, once you press on 'Enhanced Summon' you get to choose between 'FIND ME' which will prompt your car to go to your location based on your phone's GPS or dropping a pin to have your car drive to a location. The two options will only work if your position or the pin are within 150 ft of the car.
See more: Electrek
greentheonly is back at giving us a glimpse on what AP sees. As of 2019.4, we have stop lines detection enabled in public firmware.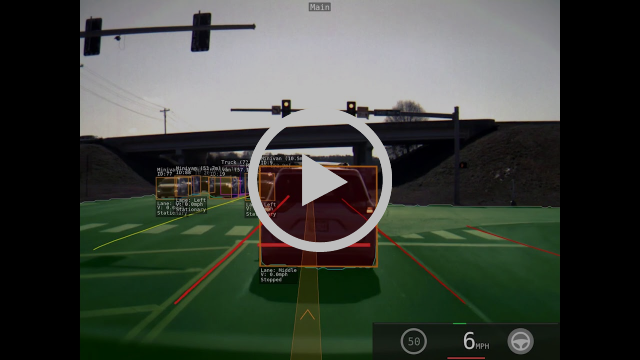 Last Thursday (Feb 28th) Tesla introduced their highly expected $35k Model 3! The Standard Range Model 3 has 220 miles of range, a top speed of 130 mph, and 0-60 mph acceleration of 5.6. At the same time, they introduced the Standard Range Plus, revisited a bunch of prices and announced that Tesla would be closing most of their retail stores soon and selling exclusively online.
While we understand that selling exclusively online lets Tesla reduce the price of their cars by 6%, we probably wouldn't own a Model S if it wasn't because we did a test drive at the Tesla store in Walnut Creek.
Read more: Tesla
Model Y is about 10% bigger than Model 3, and it will cost about 10% more, and have slightly less range for the same battery. We are excited about Model Y, Vanessa and I think that there is a high chance it is our next vehicle.
See more: Twitter
The Model 3 Owners Club is facilitating test drives/rides for potential new buyers with existing owners on their forum. When the referral program went away a few weeks ago a lot of people thought that it was the end of Tesla owners helping each other, they couldn't have been more wrong! If you are a Model 3 Owner and want to help, add yourself to the map in the link below.
Thank you Model 3 Owners community and thanks Trev!
See more: Model 3 Owners Club Forum
What the acronym?
As Tesla fan I find myself sometimes having to remember what are all those acronyms, here is a list of the ones you can find in this issue.
EAP - Enhanced Autopilot
NoAP - Navigate on Autopilot
AP - Autopilot
FSD - Fill Self-Driving
---
Support Tesletter
Tesletter is put together by
Ignacio
and
Vanessa
. We're really grateful for all the love and feedback we receive. Special thanks to our
supporters
. If you like what we do, please consider supporting Tesletter. All the funds will go into making Tesletter more awesome.