If you are just now finding out about Tesletter, you can subscribe here!
If you already know Tesletter and want to support us, check out our Patreon page 🙏
Issue 35 - Enhanced anti-theft add-on
On Monday we woke up to our Tesla showing the infamous "12v battery needs service" message so I decided to call Tesla. I had some problems and after 20+ minutes waiting my call dropped (this happened 3 times). During the call the recording that said I could use the live chat on https://tesla.com/support but I visited it a few times and I didn't see it. Later in the day, I decided to give it another try and after clicking on one of the support articles… there it was, a live chat icon!
After a few seconds, Trevor was there to help me. I only had to provide my VIN number and he was able to pull some data from the car and answer all my questions. It's pretty cool seeing Tesla improving some aspects of their customer service like this, specially now that due to high sales this is suffering a bit.
Note: The chat icon doesn't seem to come up on mobile and I couldn't see it again after 9pm.
Rehan Butt has created a bunch of mockups for a possible Tesla App for the Apple Watch. Honestly it looks pretty cool, I hope someone at Tesla sees them and gets inspired to prioritize something like this!
See more: Tesla Watch App
greentheonly (aka verygreen in TMC) came into procession of two Autopilot units from crashed cars and was able to extract the snashots that the car stored during the crash. One of the crashes is an AP1 that crashed on July 2017, the crash snapshots only included 5 cameras: main, narrow, fishseye and pillars (2) at 1 fps, while the other crash is from October 2017 and its snapshop data includes 30 fps footage for narrow and main cams in addition to the data mentioned earlier.
Read more: Reddit
According to the release notes: Window position and charge connector locking behaviours have been optimized for cold weather.
People are reporting that the Model 3 doesn't roll the windows all the way up and the charger is ulocked by default - both only during really low temperatures - to avoid problems in very cold weather.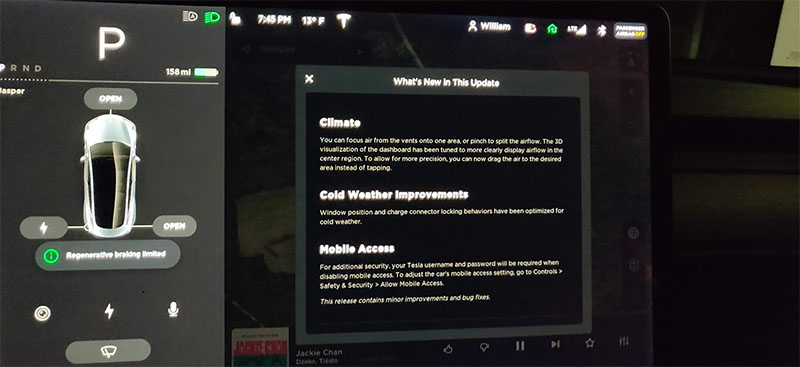 Read more: Reddit
While a few months ago it was LA that removed the free express lanes for vehicles with the clean air vehicle decals, now it is the turn of NorCal. The county of Santa Clara is voting in December a proposal that would charge 50% of what other single drivers pay.
Read more: SF Chronicle
Enhanced anti-theft comes as part of the basic package in Europe since it's mandatory by law. This is how it actually looks like.
Read more: TMC Forum
What the acronym?
As Tesla fan I find myself sometimes having to remember what are all those acronyms, here is a list of the ones you can find in this issue.
AP - Autopilot
AP1 - Autopilot hardware released after late September 2014 and before October 2016
AP2+ - Autopilot hardware released after October 2016
TMC - Tesla Motors Club (site)
FPS - Frames Per Second
VIN - Vehicle Identification Number
---
Support Tesletter
Tesletter is put together by
Ignacio
and
Vanessa
. We're really grateful for all the love and feedback we receive. Special thanks to our
supporters
. If you like what we do, please consider supporting Tesletter. All the funds will go into making Tesletter more awesome.