[Updated] During the week of November 4th, Tesla started rolling out the software update 2019.36.1. We're not amongst the lucky ones who got it and it seems like now they've stopped distributing it. My guess is that they have found a bug and that we'll see a .2 or .3 version being released in the next few days.
2019.36.1 introduces some very attractive updates- for some owners, it's even better than the highly expected version 10.0- including one-pedal driving, something that other EV cars like the Volt or Leaf already have. Since Tesla owners have been all over the Internet sharing and asking about the one-pedal drive and the power increase, I've put together this blog post to help understand what's in version 2019.36.1 and for what Tesla Model. And if, like me, you haven't received the 2019.36.1 upgrades yet, don't worry, I'm sure we'll all get a software update soon.
So, what's in Tesla's software update 2019.36.1? This diagram will hopefully help you figure out what you're getting with the 2019.36.1 software update: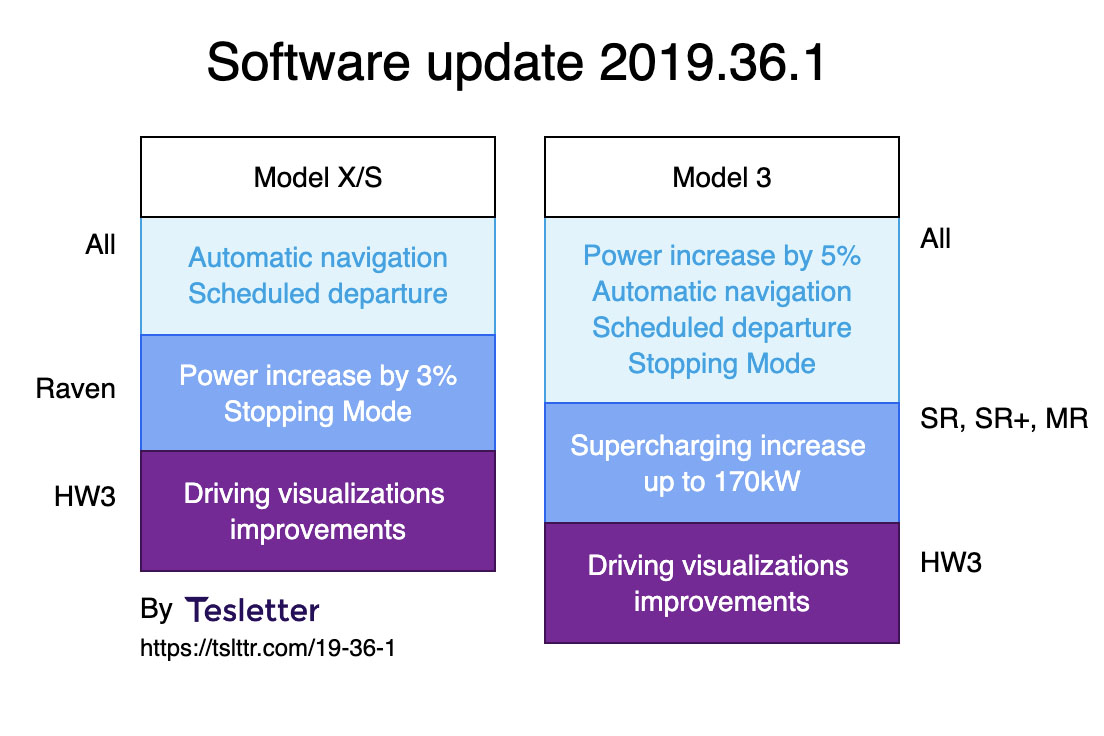 Let's look at each feature in more detail:
Power increase. The good news is it's not only for Model 3 owners since Raven models of the Model S and X are also getting this power upgrade. However, Model X and S' are only getting a 3% increase while Model 3's are getting 5%.
Supercharging improvements. Standard Range, Standard Range Plus, and Mid Range Model 3's are getting a charging rate of up to 170 kWh.
Automatic navigation. Even smoother integration with your calendar. How does Tesla's Automatic Navigation work? If you have linked your calendar, and have indicated the address of a calendar event, you only need to get in your Tesla and it will automatically load the directions to your scheduled appointment. Pretty cool, eh?
Scheduled departure. This new feature will get your car ready whenever you need it, you only need to indicate the time. It will both turn on the AC and finish up the charging so the battery is awake and warmed up.
Stopping mode. This is probably one of the most popular features of this release, the stopping mode. Tesla owners have been asking for true 'one-pedal driving' for many years, as other EV cars already offered this capability. It also introduces a new stopping mode selection along with 'creep' and 'roll' (previously creep off), called 'hold'. In hold mode, the car applies regenerative braking all the way to zero and then applies 'Vehicle Hold' when the car comes to a complete stop. This option is only available in Tesla cars with the newer permanent magnet synchronous reluctance motors, which previously stopped applying regen at around 5mph. AFAIK the old induction motors aren't physically capable of applying regen at low speeds which makes me think Tesla is never going to implement this feature for the rest of the Model S and X.
Driving visualizations improvements. The driving visualizations keep on getting better and better, this version renders cones as seen in the image below (if you have Hardware 3). It doesn't only come with new visuals, the car will now also suggest/perform a lane change to avoid cones.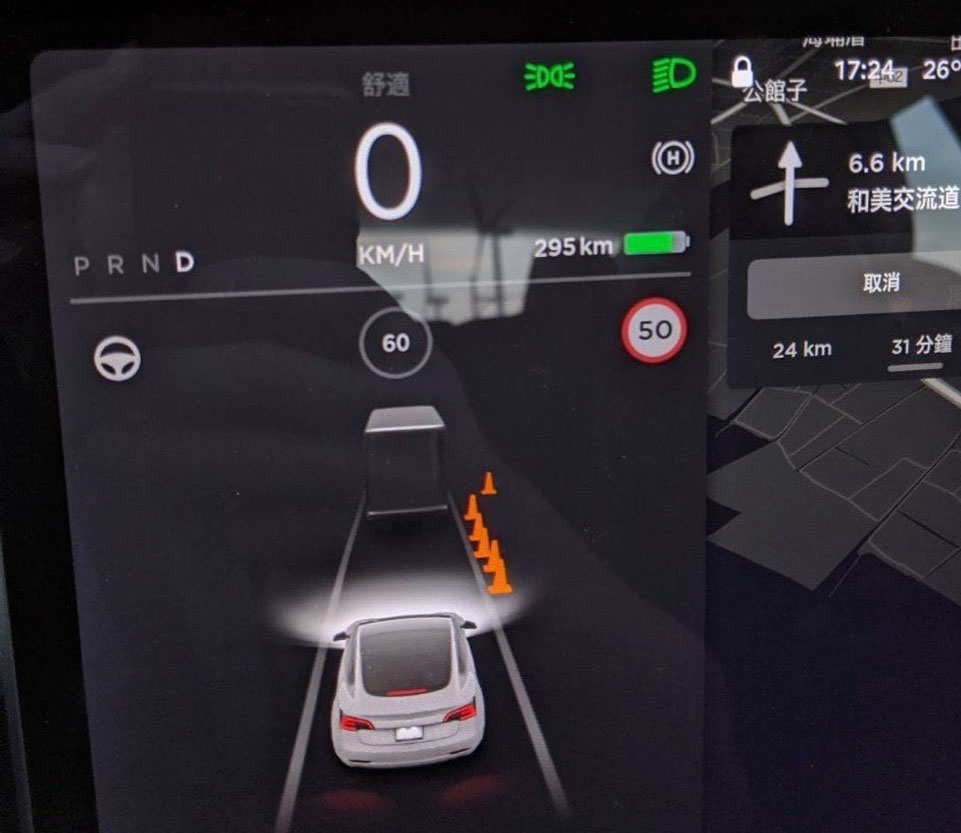 UPDATE about version 2019.36.2.1
Version 2019.36.2.1 started rolling out on Friday, Nov. 10th. Check out an updated graph and the main differences between 2019.36.1 and 2019.36.2.1.
Have questions? Reach out at contact at tesletter dot com
Have you not ordered your Tesla yet? Use my referral code http://ts.la/ignacio9266