Auto wiper
Blog posts related to Auto wiper
October 8, 2020
Do Teslas have windshield wipers? How do you clean them and how do they work? Manipulating wipers may seem easy in other cars but it's not completely obvious how to do it in a Tesla, so we're here to help. I also get a lot of questions about what wiper fluid to use, so...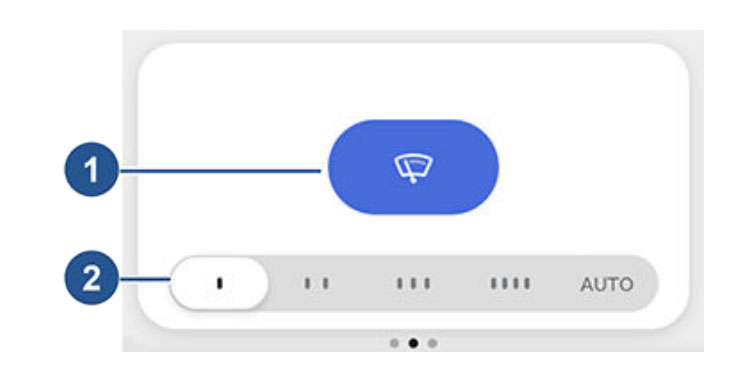 November 28, 2019
Last updated: Dec. 3rd, 2019. 2019.40.1.1 started rolling out on November 27th and brings back the Supercharging improvements briefly introduced with the previous update. It also introduces new Auto Wiper and Lane Change improvements. As of Dec. 3rd, 2019.40.1.1 rollout has stopped.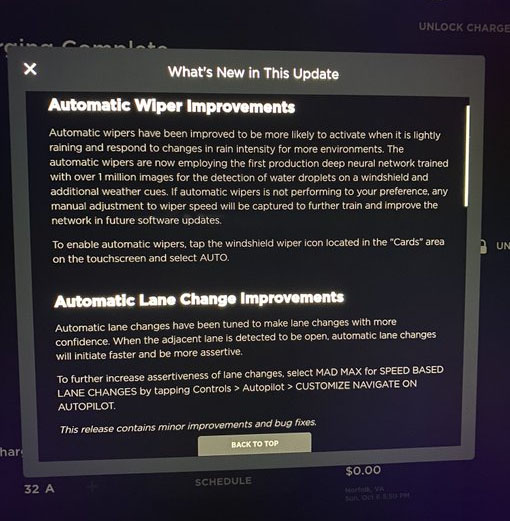 Videos about Auto wiper
Past Tesletter articles
Tesla related stuff in this talk starts in minute 15:30. Some interesting bits:
Since he joined - 11 months ago - the neural network is taking over the AP code base
Tesla has created a ton of tooling for the people who tag images so they can be more efficient
Around minute 20 he shows why labeling something that seemed easy like lane lines isn't as easy as it seems
Min. 22:30 - He shows traffic lights, some are really crazy!
He talks about how random data collection doesn't work for Tesla. For instance, if you want to identify when a car changes lanes and you collect images at random most often than not blinkers are going to be off
Min. 25:40 - He mentions how auto wiper and how the dataset is crazy and it 'mostly works'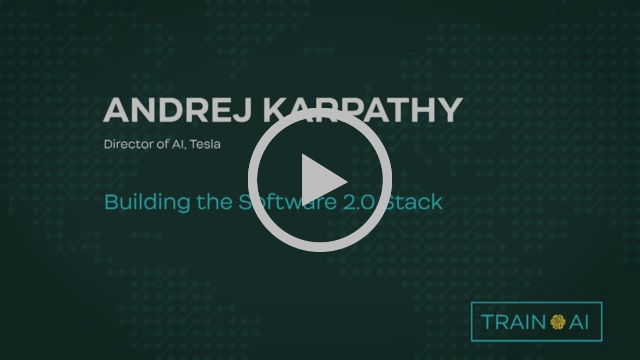 From issue #12
2019.40.1.1 started rolling out on November 27th, here are the highlights:
Model 3 Standard Range and Standard Range Plus have now a charging rate of up to 170 kW, while the Mid Range can go up to 200 kW
Automatic wiper improvements
Automatic lane change improvements
As of today, it seems Tesla has stopped the rollout of this version. We'll keep updating this article as we get new information.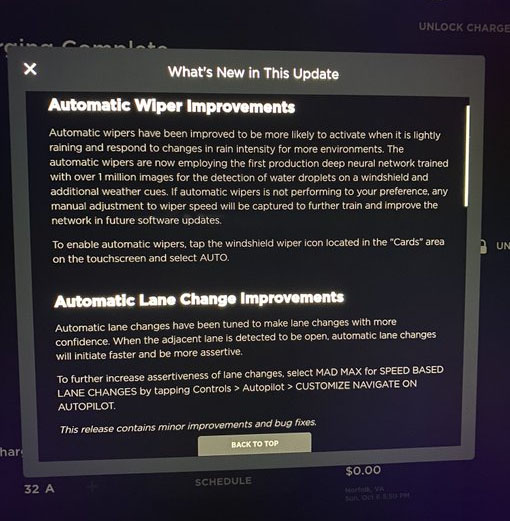 Read more: Tesletter
From issue #88