If you are just now finding out about Tesletter, you can subscribe here!
If you already know Tesletter and want to support us, check out our Patreon page 🙏
Issue 18 - Premium Package becomes standard
Woot?! We bought our Model S only a few months ago… But to be honest, we knew this could happen. And we're happy for the new and future Model S owners. Enjoy!
Read more: TMC Forum
"We pile into the compact confines of the Model 3, which looks the same as any other, except for having a combined 450 hp and 471 lb-ft of torque. That sort of power should put its performance on par with a BMW M3 super sedan."
Read more: Motortrend
Do you ever wish you'd know if a Supercharger location is trailer friendly or not? This one below in Lillesand, Norway is and has designated spots for trailers. And here's a thread with other locations put together collaboratively by fellow Tesla owners on the TMC Forum (the thread is a bit old but still super helpful).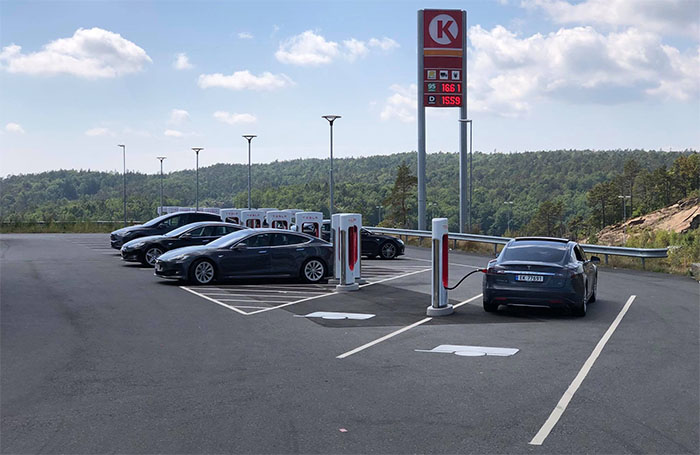 Read more: TMC Forum
Have you ever stayed at a hotel and didn't realize there was a Supercharger? How many are there and where? Here's a spreadsheet with some numbers. "Looking at the numbers it seems that destination chargers are distributed in proportion to the total population of a country rather than by the number of tesla owners of a country."- says Arxcis.
See more: Google doc
---
Support Tesletter
Tesletter is put together by
Ignacio
and
Vanessa
. We're really grateful for all the love and feedback we receive. Special thanks to our
supporters
. If you like what we do, please consider supporting Tesletter. All the funds will go into making Tesletter more awesome.