After a month without any updates, Tesla owners with MCU1 have finally started getting them again. The first folks in this group have started reporting receiving the latest update 2020.4 which also includes most of the goodies from 2019.40.50.x.
We knew for sure the changes requiring Autopilot Hardware 3 were not going to be available- like the new driving visualization improvements- as well as some other new features that require a more powerful processor like TRAX v.01., but we weren't sure about the rest. Now we have confirmation, this is what you're will be getting with the update 2020.4 if you have MCU1:
For reference, here's the complete list of what 2020.4 brings to Tesla owners with MCU1:
Additional Vehicle Information. There was a lot of confusion with the Autopilot version, owners were not sure which version they had and what features were getting with the new updates. In this sense, this change is going to be very helpful. If you're renting or thinking in selling/buying second hand, it's also pretty helpful to know exactly what you're getting.
Voice commands. In two years, I think I've only been able to use 'Play foo' once or twice. I'm looking forward to trying this one, and I'm so happy everyone's getting it (not only cars with newer tech).
Model 3 Owners online has put together an app that contains all the Tesla voice commands available. This is a crowdsourcing effort, very cool (and check out the video)!
Phone improvements. Being able to receive and send text messages is a natural evolution. After all, Teslas and smartphones are not that different, are they?
Camp Mode. Very cool, even if you don't go camping with your Tesla.
Your car can now maintain airflow, temperature, interior lighting, as well as play music, and power devices when Camp Mode is enabled.
After a while, a cool background will show up: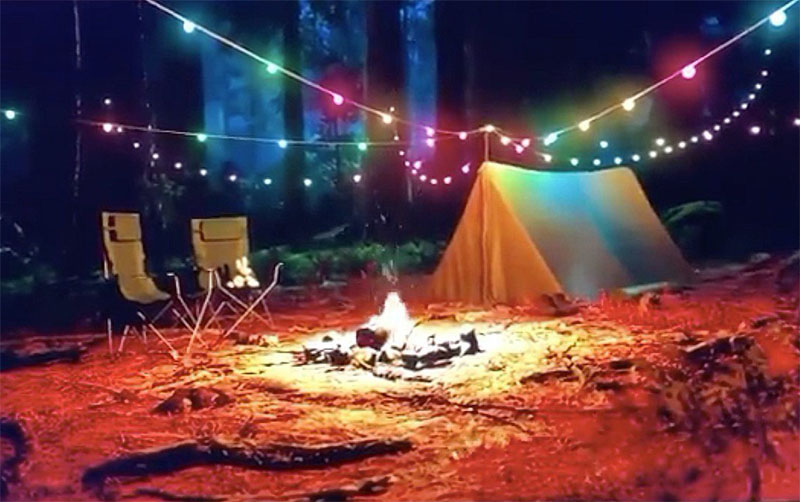 Backgammon. Not as cool as Stardew Valley, but yay, new games for us too!
Voice Keyboard. If you're able to receive and send text messages, you may as well be able to dictate them to your car.
Driver profiles. More settings saved mean it makes even more sense to use the driver profiles as shortcuts for most things in your car.
Additional navigation settings are now saved to your driver profile such as volume levels for navigation voice guidance as well as driving display settings.
Have questions? Reach out at contact@tesletter.com
Have you not ordered your Tesla yet? Use my referral code http://ts.la/ignacio9266