Caraoke
The new 'Caraoke' feature lets you sing your heart out with friends on a road trip – or by yourself. Caraoke comes with a massive library of music and song lyrics, with support for multiple languages. First released in October 2019, It is only available to cars with MCU2.
Pictures of Tesla Caraoke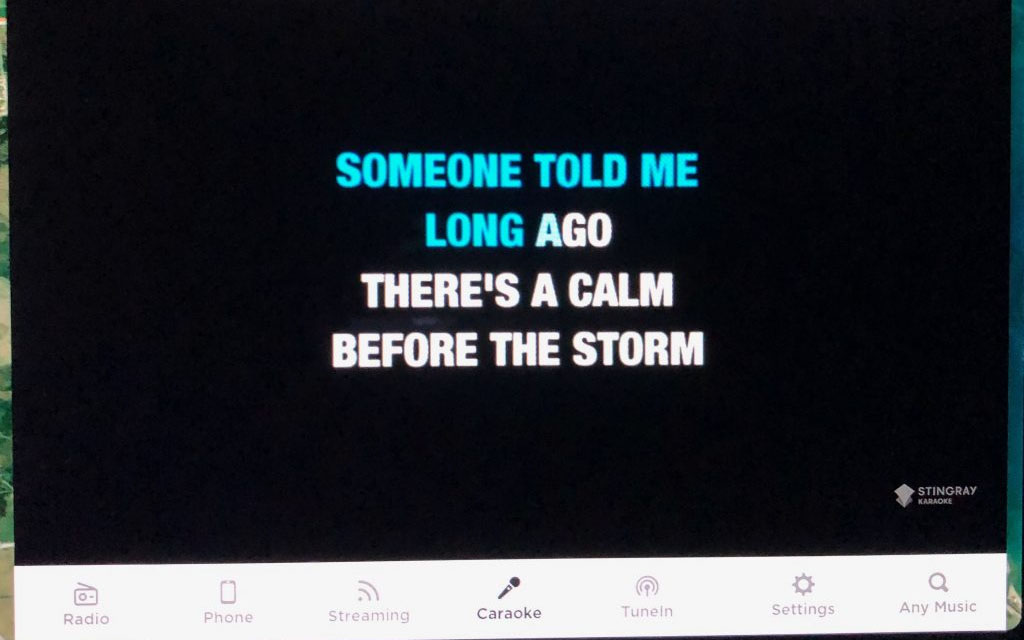 Videos about Caraoke
Past Tesletter articles
v10 got released to folks in the Early Access Program a few days ago, here's what's new:
Tesla Theater: As Elon advanced on Twitter, Tesla are getting Netflix and YouTube through dedicated apps
Caraoke: Card + Karaoke = Caraoke. This feature allows users to sign along their favorite tracks. According to the release notes, this feature is only available while in park. We think it'd be fun to have it while driving too, for passengers only of course
Cuphead: Tesla Arcade is getting some serious games, Cuphead was announced a while ago and now is hitting the cars
I'm feeling lucky / I'm feeling hungry: As we advanced a few weeks ago thanks to greentheonly, these two options are now part of the navigation
Maps improvements: When searching for a destination the autocomplete now shows the distance to the place
Sentry mode improvements: Sentry mode now records videos in a new folder to easily distinguish between Sentry recorded videos and Dashcam videos that you saved. It also overrides older Sentry videos when full
Joe Mode: Quieter chimes to avoid waking up your Joe's family
Driving visuals: Additional objects, lane lines, and adjust the zoom and viewing angle
Automatic lane change: The visualization now displays where the car is going
Read more: Teslarati
From issue #77
Elon Musk has said many times that his goal is to make a Tesla the most fun you could possibly have in a car. In other to achieve that, Tesla recently released improvements into their sketchpad app as well as a new racing game. Elon has also said on Twitter they will be releasing an app to tweak music and another one for car karaoke, woot?!
Read more: Twitter
From issue #66