Today I had my first experience at a Tesla Service Center (in Berkeley, CA) and I have to say that I am really impressed with Tesla's customer service.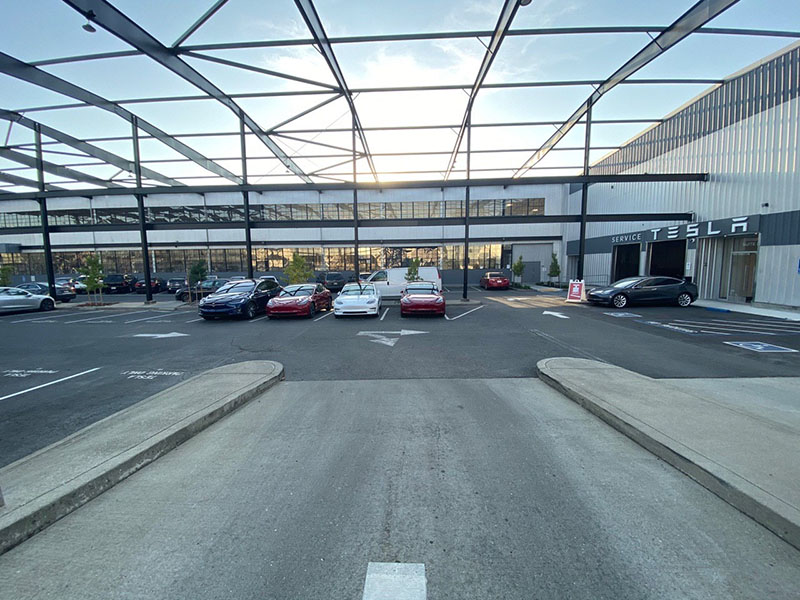 Tesla Service Center in Berkeley
The couple of times I've needed service up until now, I had used Mobile Service. Mobile Service is equally awesome, you schedule the appointment via the mobile app and they just show at your place (work address, or whatever location you choose) and take care of the car. Unfortunately, this time our fix required that we'd go to the Service Center.
So what was the problem with our Tesla? A yellow border started showing on both sides of the MCU screen. It's a superficial problem that doesn't affect the functionality of the screen but still, not very nice. You can clearly see the yellow borders in these pictures we took before opening a ticket via Tesla's mobile app:
See the yellow lines on both sides of the MCU screen
This is a known issue that could potentially affect all Tesla Models. Tesla used to replace the whole screen under warranty, but there's a tool now that can fix the problem in a couple of hours with ultraviolet light. BTW, I asked to see it when I picked up my car and they took the time to show it to me (unfortunately, they didn't let me take any pictures).
To book the appointment, I did it through the Tesla mobile app. I did not have to call or email anyone and they had availability in less than a week (6 days to be accurate). Taking into account mine was not a critical issue, I found the time frame to be pretty good. A couple of days before the day of the appointment, I received a text message giving me a heads-up that they hoped they'd receive the tool on time, but that if not, they'll let me know to reschedule. Pretty nice that they didn't just risk it to cancel last minute.
The day of the appointment arrived and I got there 15 min early. I didn't have to wait and I just parked my car in the driveway. Someone came right away to check me in and informed me that Matt would come to the waiting area to talk to me in a few minutes.
Chispas waiting in line to get the touchscreen yellow border fixed
What to say about the waiting area. Nice, clean, comfy, water and all sorts of other refreshments and snacks, and a Nespresso coffee machine. Oh, and wifi. I had just opened my laptop to catch up with work when Matt showed up.
It was really nice to get this kind of individual attention where they not only informed me about the procedure, its duration, etc. But they also offered the possibility of asking any other questions I had. And I did have questions. Speaking of which, I asked about the Hardware 3 retrofit for Full Self-Driving but apparently my VIN number is not in the list to get it done yet, so it'll have to wait. They said to ask again next time I visit the Service Center.
A few things I liked from this interaction, in no particular order:
I didn't feel rushed when raising all my questions, even though they had mentioned they were short on staff that day
They made sure I got their text message so I could reach out during the day to ask questions if needed (you can also check the progress via the mobile app, which is very convenient)
They confirmed the fix would be finished the same day and they tried to confirm the time so I could make arrangements to get my kids picked up from school
And last but not least, they asked me where I lived and gave me a $100 Uber voucher to move around (the voucher did not work, but let's not blame Tesla for that since, in the end, I was able to get a refund by Uber)
All in all, it took six hours from the moment I dropped off the car until they texted me to pick it up. And the yellow borders were gone! See it for yourself:
MCU screen yellow border fixed
And if this wasn't enough, there's more. When I looked at the invoice I was pleasantly surprised to discover that, without me asking, they also checked and refilled the windshield fluid as well as the tire pressure. The total amount of the invoice was $0.
I understand people are complaining about long wait times for repairs and other problems with Tesla customer service (e.g. 2-hour wait to speak with someone over the phone). I once got an appointment for which I would've had to wait more than a month and ended up going with a Tesla certified body shop instead. But I wanted to share my recent and excellent experience since I do think Tesla is trying hard and it's starting to show.
Have questions? Reach out at contact at tesletter dot com
Getting a Tesla soon? Use my referral code http://ts.la/ignacio9266