Tesla has started rolling out the new software update 2020.8.1. Not many cars had received the update at the moment of writing this article, but it seems that Tesla is rolling it out to a lot of the Tesla fleet today. This is what we know from Tesla Owners Online and Greentheonly. The release notes for version 2020.8 are available on Teslascope already.
Check out the European release notes shared on Twitter by @andreasjordt:
New features being released
Third-party charging stations. Find third-party charging stations in the in-car navigation system. Available in selected places in Europe like Belgium, Netherlands, Germany, Switzerland and Austria, and also in the Bay Area (United States), and China.
Track Mode (Performance Model 3 only). In Track Mode V2, Tesla is giving the driver a lot of freedom to tweak how the car responds and other interesting features like recoding video, built-in-lap timer, and more.
Regen braking. Regenerative braking force has been increased to improve the driving experience and increase how much energy is actively returned to the battery when slowing down. According to Greentheonly, this only affects the newer Raven Model S and X models:
it's marked for "long range" cars in addition to pm drive motor. Coupled with new motor configuration "SX_2020" that is in addition to "SX_AWD_Raven", I assume it's a new config dimension not applicable to teh original raven config.

— green (@greentheonly) March 5, 2020
Improvements introduced
Voice command reliability. In this update, Tesla has improved the reliability of the voice commands, including areas with poor connectivity.
Bluetooth improvements. Bluetooth now connects to the paired phone only after sitting in the driver's seat and all doors being closed. This is a cool idea, I'm looking forward to seeing how it actually works.
Features in new locations and in new languages
Driving visualization improvements to display stoplights, stop signs and select road markings have been added to new locations.
Additional language support. The touchscreen is now available in additional languages.
Additional owners' manual languages: Romanian, Hungarian, Slovenian, and Hebrew
Who is getting what
In order to help understand who's getting what, we've put together this diagram: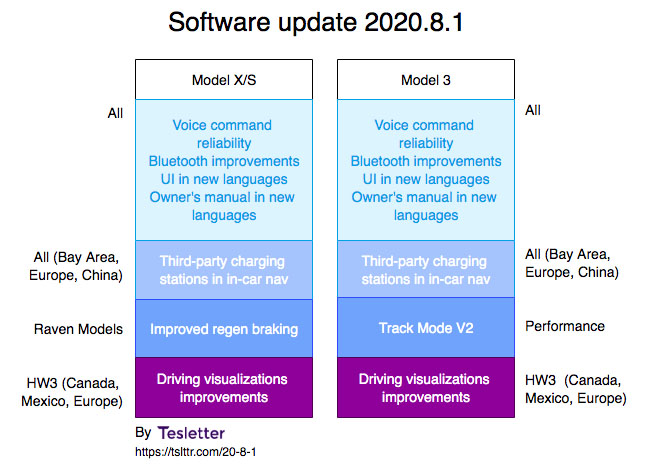 Tesla owners who liked this article also liked these accessories...
Have questions? Reach out at contact@tesletter.com
Have you not ordered your Tesla yet? Use my referral code http://ts.la/ignacio9266