If you're a Model S or Model X owner, you've probably heard about the eMMC (Multi-Media Card Memory) failure (and if not, you can read more about it here). It seems like, after finding a way to just having to replace the eMMC- instead of the whole media control unit (2 screens), Tesla is making changes to at least warn owners before the failure occurs.
According to @greentheonly one of the latest Tesla software updates, 2020.40.9.2 (here you can see the release notes for 2020.40), has added a warning message in the UI. The new message would appear in the touchscreen when you are experiencing eMMC failure before it's too late.
The the going wide (to MCU1 cars) 2020.40.9.2 release has added user-visible message when you are experiencing EMMC failure even before it's catastrophic.

(picture from https://t.co/g2gb7jQHJg and i confirmed message addition in just that release, not even in 2020.44 yet) pic.twitter.com/bJFPiwfdpb

— green (@greentheonly) November 28, 2020
Earlier this month, Tesla reached out to all elegible owners to offer free repairs or reimbursements if applicable. Below is the email that I received.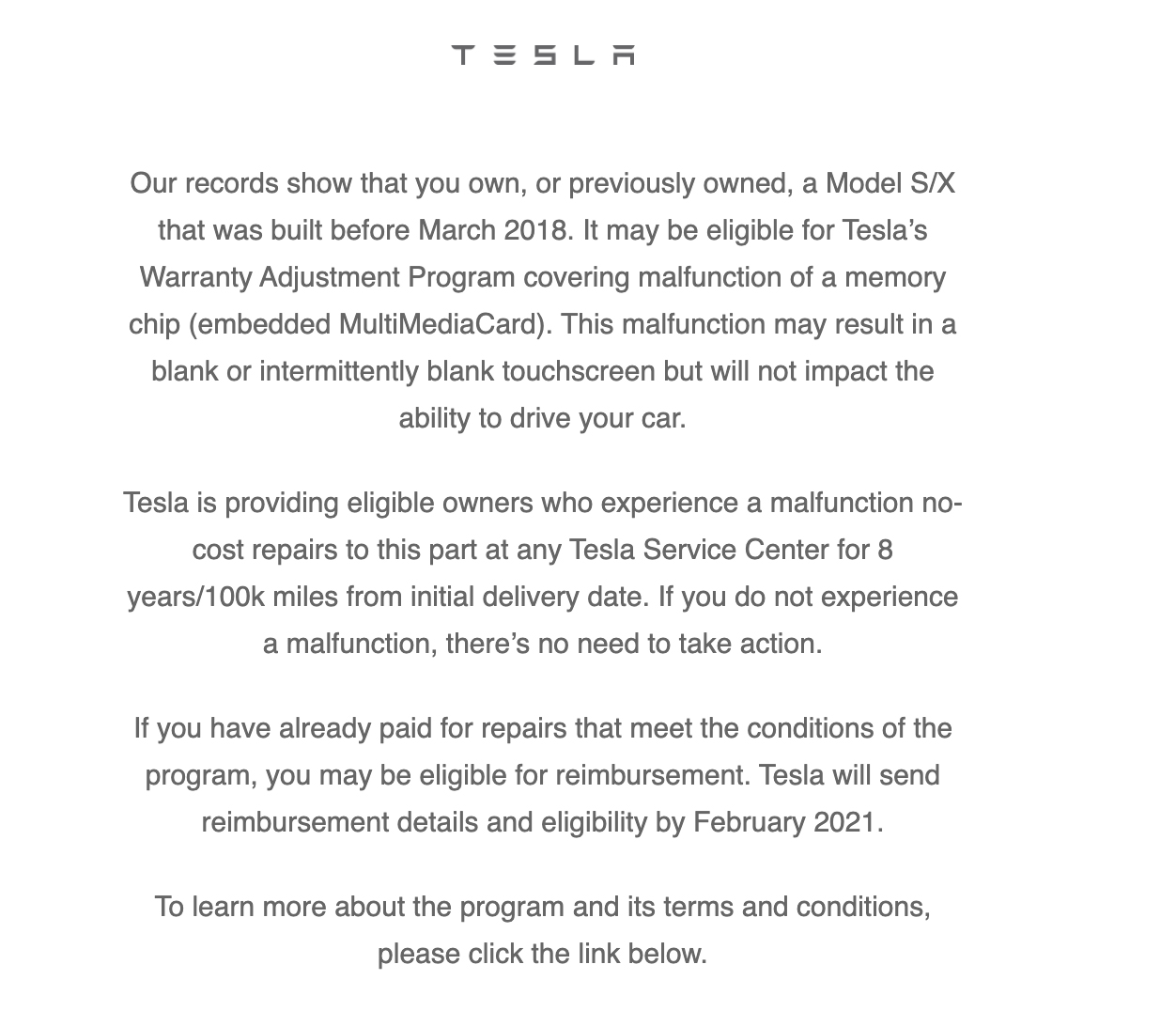 I think it's really good that Tesla is introducing these type of warnings. You could argue they should've done it earlier and I wish my MCU wouldn't fail in the first place. But, since that can't be changed, seeing Tesla acknowledging the failure and actually doing something about it makes me be hopeful of a better customer service.
Owners who liked this article also liked...
Have questions? Reach out at contact@tesletter.com
Have you not ordered your Tesla yet? Use my referral code http://ts.la/ignacio9266