Tesla has started rolling out an Early Access only version, 2020.12.5.6, which introduces Traffic Light and Stop Sign Control in beta. I've had access to a few videos source of a Model 3 running 2020.12.5.6 from an anonymous and I want to share with you what I think is interesting.
Note that the new Traffic Light and Stop Sign Control feature works both with Autopilot engaged or just with the Traffic Aware Cruise Control (TACC).
Traffic light control
In this video, you can see how Autopilot starts slowing down and warns you about the traffic light 500 feet before getting to it. I think Tesla is acting out of caution here by slowing down if the driver doesn't confirm, an attentive driver will see it and confirm:
In version 2020.12.5.6, Autopilot is programmed to stop when it detects a traffic light and if it's green and you don't need to stop, you can just skip stopping by using the accelerator or the gear stalk to continue. We think this is a pretty good move towards FSD which allows Tesla to test the accuracy of the new Traffic lights control feature before getting it in front of more drivers.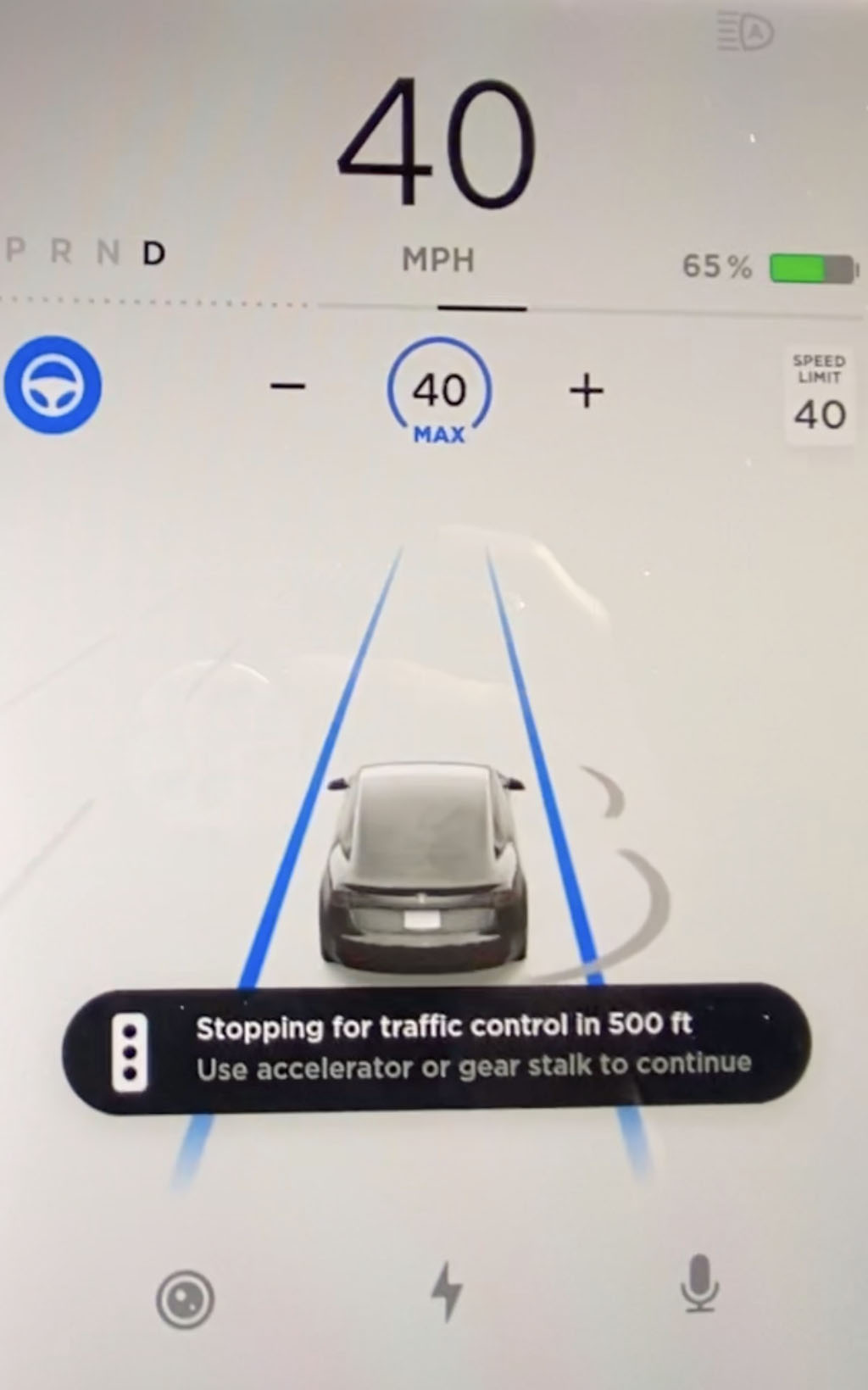 As a reminder, this feature is in beta and the driver should still pay attention at all times, even when AP is engaged. Here's another interesting video where a traffic light from another road is detected and Autopilot slows down anyway. In this case, there's a yield sign so it works out well, but obviously it's not the expected behavior.
Stop sign control
Here's another video of Autopilot stopping at a stop light all by itself:
It seems it works well but sometimes it misses the stop line and you can't see into the street or crossway that far away.
Another new thing of this release is that the Autopilot is very strict with the speed limit. You can still go a bit over max speed limit on surface streets with Autopilot, but when you switch to FSD, it bumps you down to strict max speed limit.
In order to run this version of the firmware, you need to have the latest version of the Tesla maps and camera calibration may be required. In this case, our sources shared that they didn't have to do anything else other than installing the update and accept data sharing.
What the acronym
As Tesla fan I find myself sometimes having to remember what are all those acronyms, here is a list of the ones you can find in this issue.
TACC - Traffic Aware Cruise Control
AP - Autopilot
FSD - Full Self-Driving
Have questions? Reach out at contact@tesletter.com
Getting a Tesla soon? Use my referral code http://ts.la/ignacio9266