A couple of months ago we had a small accident with our Tesla, my husband hit a pole with the left side of the car while backing up and talking with me and my daughter. Blame's on us as a family :) The important thing is it didn't seem much, just superficial damage. It turns out both the fender and the bumper were cracked, so it ended up costing way more than we anticipated.
Immediately after, we started betting how much it was going to cost. For reference, we live in the Bay Area. A few quick Google searches didn't reveal much. We found one blog post for a similar damage in a Model 3 and a few threads on the Tesla Motors Club Forums, but nothing really helped.
"Hitting a pole" leaves room for interpretation, so let me share some pictures: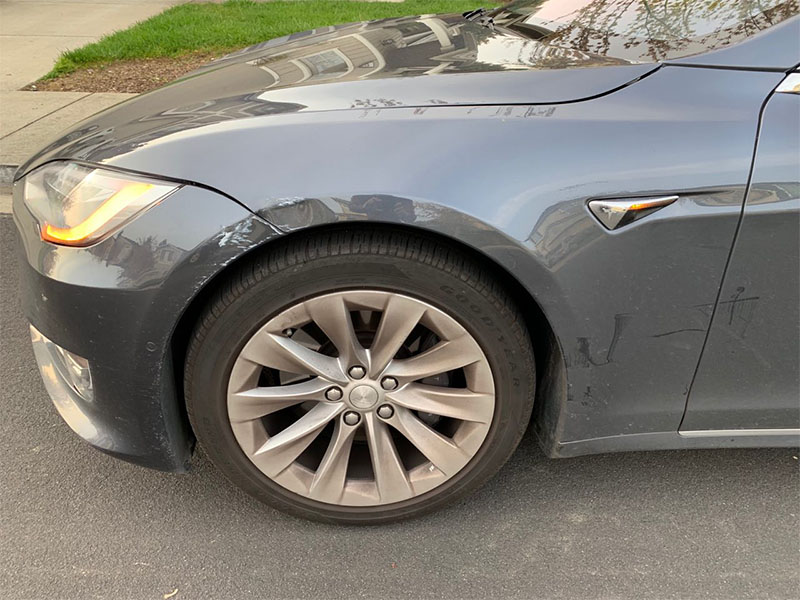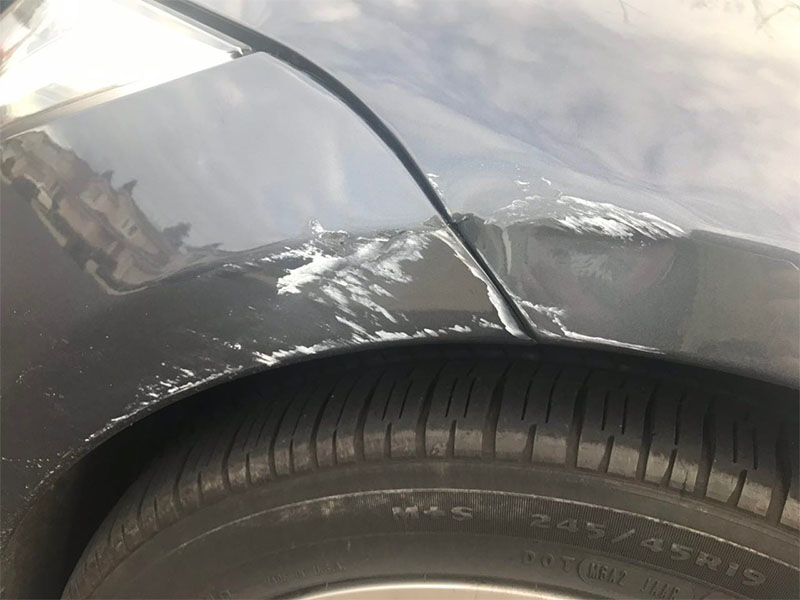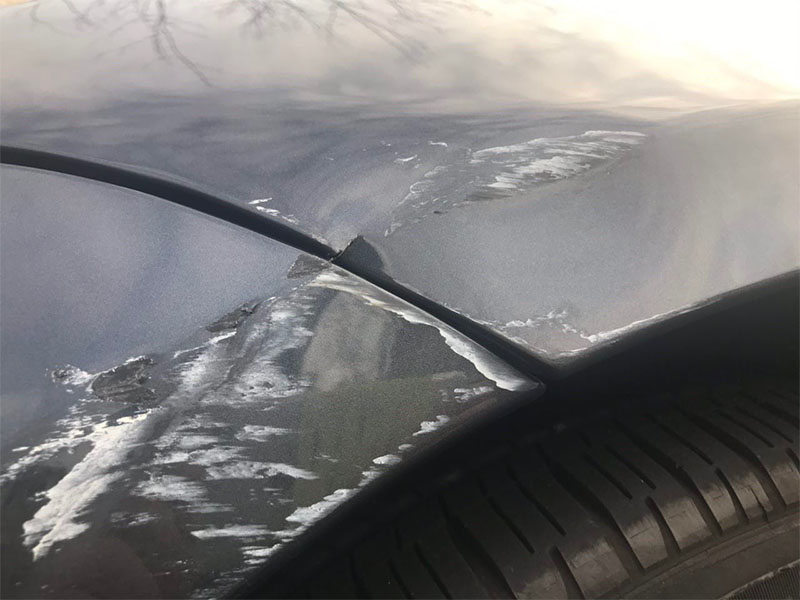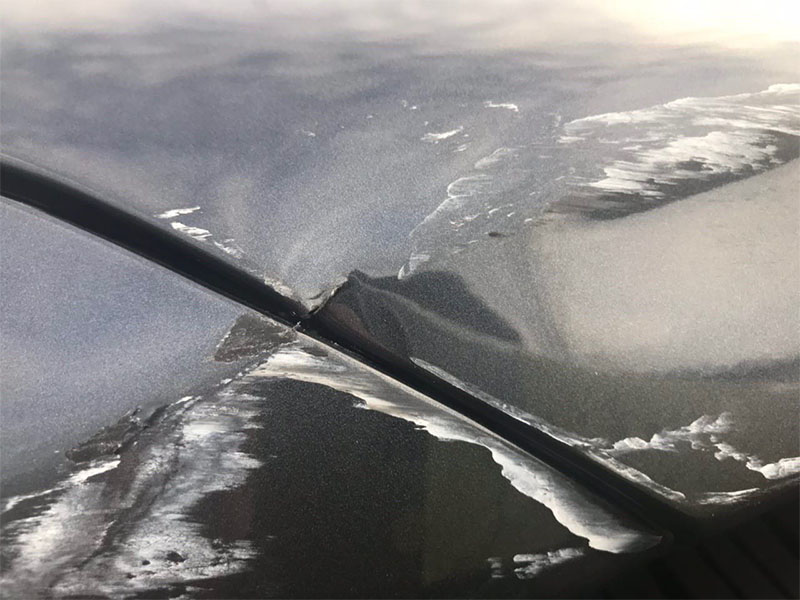 Quote from a Tesla certified body shop
So after we couldn't find much online, we decided to take our Model S to a Tesla certified body shop to get an initial quote.
We learned there are a couple of things which are going to determine how bad the accident is (and how much is it going to cost to fix it).
The number of pieces that are going to need replacement. In our case, it was two: the fender and the bumper.
If the damage is only superficial or not. Most likely, you're going to need the mechanic to disassemble your car to get an accurate assessment and estimate.
The Tesla certified body shop quote came at about $6,200, see detail below: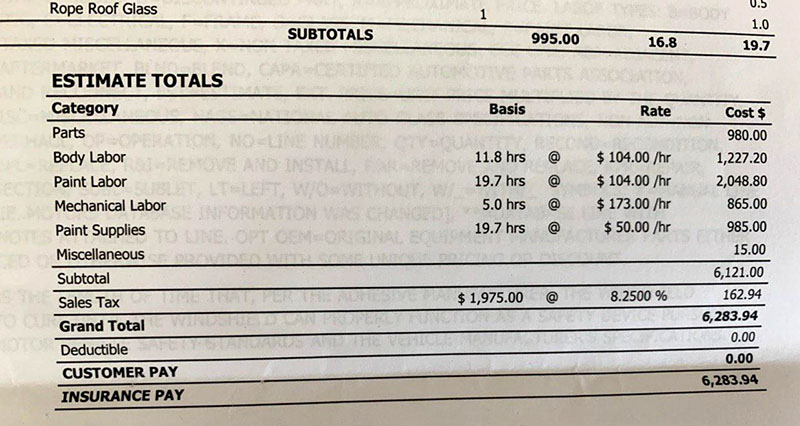 Quote from the insurance company
Next, we checked our insurance company and confirmed they'd cover it. We reached out to get a quote, and they quoted $2,700, the difference was about $3,500. Not small!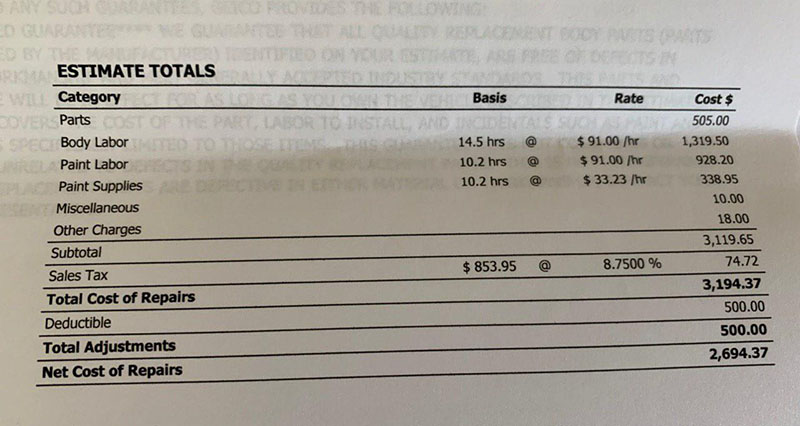 Surprisingly enough, the main difference between quotes was the amount of painting that replacing one or two pieces (the fender or the fender and the bumper) would entail. As you can see, the pieces themselves (fender and bumper) were ~$500 each. The money really would go into labor and specifically, into painting.
Initially, the Tesla certified body shop said we'd need to replace both the fender- which was clearly cracked as you can see in the pictures above- and the bumper. The insurance company didn't include the bumper in their quote, since they thought it could be repaired and it wouldn't need to be replaced. When they took away all the pieces at the body shop, they confirmed the bumper was cracked as well, so it would have to be replaced.
Both the insurance and the Tesla certified body shop told us that even though the difference between their quotes was somehow big, they'd discuss it and probably would reach a middle point. Which is kind of what ended up happening.
Ok, but… how much is it to repair a cracked fender and bumper in a Tesla Model S?
So here it is: the final invoice for repairing our Tesla Model S after hittng a pole ended up being $5,823.09. If you're curious about the details, below is the invoice:
Timeline
The whole thing since we requested the first quote until we got our car back after fixing the damage took a little bit over 2 months.
We got the first quote from the body shop on Feb 13th and the one from the insurance company a week after. We did the paperwork at the body shop the same day so they could go ahead and request the pieces needed from Tesla.
Let me stop here because this is important and it may be different depending on your chosen body shop. In our case, we got to keep the car until they received the pieces needed from Tesla, and they requested both pieces they thought were needed right at the beginning (even though the insurance only quoted one). In their own words, if they wouldn't have needed the bumper they could have just used it for someone else's car.
So, chronologically, this is what happened:
Feb 13th: Quote from Tesla certified body shop
Feb 20th: Quote from Insurance / Paperwork with body shop / Body shop requested pieces to Tesla
Apr 8th: Took car to the body shop
Apr 19th: Picked up car from body shop
If it wasn't because they requested both pieces at the same time, it could've been the case that when we brought in our Tesla on Apr 8th, they'd examine it and realize they need an additional piece, which would've meant at least another week (or more) till they receive it and can actually start working on the fix.
---
Hopefully, you won't have to deal with fixing such damages in your Tesla Model S, but if you do, we hope this blog post is helpful.
Have questions? Reach out at contact at tesletter dot com
Have you not ordered your Tesla yet? Use my referral code http://ts.la/ignacio9266