Do Teslas come with WiFi? Can you connect a Tesla to the WiFi? What about connecting a smartphone to the Tesla's internet, is that even possible? We're going to try and answer these and other questions about Tesla's and Internet connectivity. Keep reading.
In this article we'll cover the following topics:
How do I connect my Tesla to my home WiFi?
Your Tesla does come with a mobile internet connection- which may or may not be premium, we'll talk about this in a second- but in any case, you're going to need to connect it to a WiFi in order to be able to download and install software updates. BTW, software updates are pretty cool, they introduce new features and enhance existing ones the same way you'd update applications on your phone. So, to connect your car to your home's WiFi, or any other WiFi network, follow these steps:
On the touchscreen, tap on the LTE icon to start searching for WiFi networks
Press the WiFi name you want to connect to
Enter the password and confirm
Confirm that you are connected to the WiFi, you should see the WiFi icon now

How do I connect my Tesla to a hotspot?
If you're like me, and can't wait to get home- or somewhere with a WiFi you can trust- to download a new software update, here's a trick for you: use your smartphone as a hotspot.
These days, most smartphones will allow you to use your phone as a hotspot (in case you're not carrying one around with you). But before you can connect your car, you need to turn the hotspot on. Here's how:
iOS
Go to Settings > Cellular > Personal Hotspot
Turn it on by tapping on 'off'. You should see a screen like this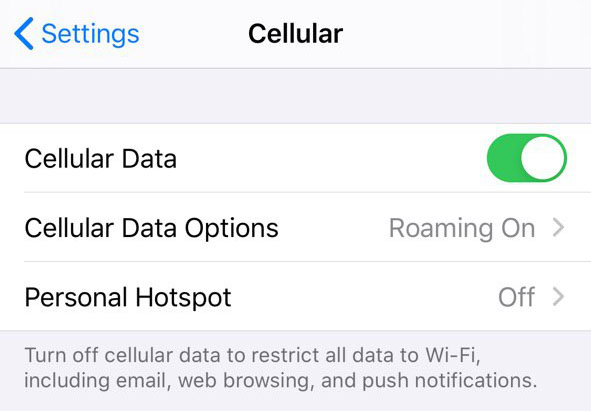 First, allow others to join
If you want, you can set up a password
Save by going back to 'Cellular'
Confirm that 'Personal Hotspot' is now 'On'
Android
Open the Settings app
Tap the Network & internet option
Select Hotspot & tethering
Tap on Wi-Fi hotspot
This page has options for turning the hotspot feature on and off
Follow instructions to customize the hotspot feature to your liking
Now you're ready to connect your Tesla to the hotspot. Just follow the same steps as if you were connecting it to the WiFi, but instead choose your phone's name. It should now appear on the list of networks available.
Does my Tesla need an Internet connection?
Your Tesla needs a WiFi or a secure internet connection to download software updates. Other than that, Tesla cars come with basic internet connectivity for maps and navigation. However, if you want to use features like video and audio streaming services, satellite-view maps, or live traffic visualization, you'll need premium connectivity.
Can you connect a smartphone to a Tesla?
If you're looking to use your Tesla's internet connection as a hotspot for another device, such as a smartphone or a tablet, unfortunately, the answer is no, you cannot connect a smartphone to a Tesla.
You can, however, connect a phone to a Tesla via Bluetooth, for example, to cast music. But that's a topic for a different article 😀
---
Do you have more questions? Please reach out!
Interested in buying a Tesla? Use our referral code http://ts.la/ignacio9266