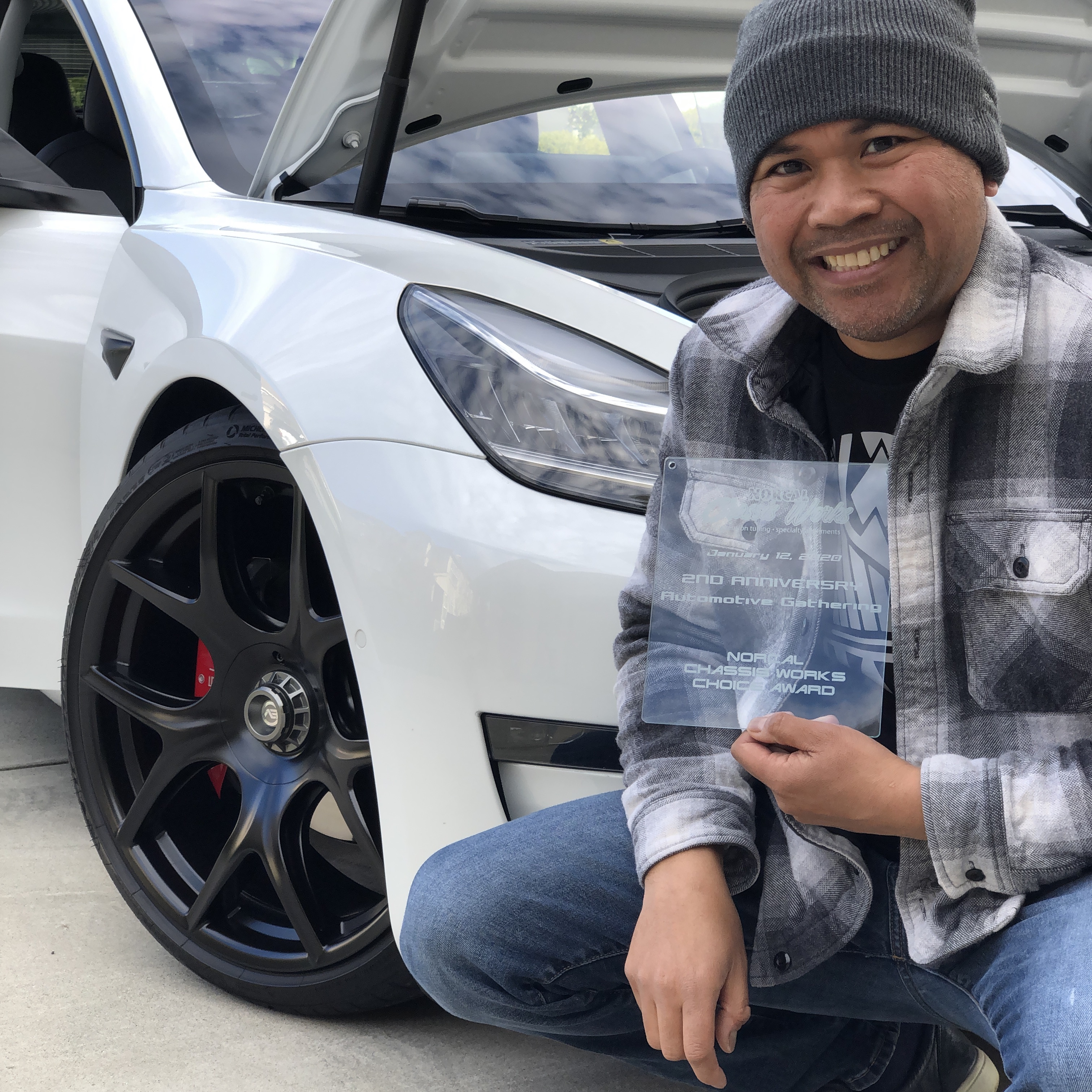 Wilmer (Tesla Owners East Bay)

---
This is part of our 100 issue celebration publication where we pay tribute to the Tesla community by sharing just a few of the stories that brought us all here.
---
Hi. my name is Wilmer and I have a Model 3 Dual Motor called Spark.
The first time I drove a Tesla...
Having only been in a Model 3 at the unveiling in Fremont as a rider, and being one of the first dozen to place a $1000 deposit at the Walnut Creek store back in March 31, 2016 - driving off the parking lot on 8/1/18 was exhilarating. My wife & son were there to experience it all. With my son starting to drive, we gave him the Prius and the Model 3 is primarily mine since my commute is 101 miles round trip.
Favorite thing about my car
Being in many cars and being a techie, I've seen and played with many interiors. This one just works. From the Autopilot to the entertainment - well integrated and functional without too many excess thrills. The most favorite thing would be the capability of being update OTA and receiving a new feature! Even better that most of them were at no charge!
Least favorite thing about my car
Being such a high-tech car, there'll be bugs in the software. Voice command is great when it works, but there are some quirks that makes it not fun to use. I'm okay since I'm an Engineer and know how "releases" work. But for many, I'm sure this is frustrating for them.
I wish my Tesla had...
Self opening handles as your approach the car.
My favorite accessory
Powered frunk from Hansshow
If I could ask Elon Musk one question, that would be...
When it comes to raising children in today's society where everything is on screen, social media influences what we do, and online shopping is taking us away from face-to-face interaction... what would be his recommendation to new parents on how to ensure children learn both physically and digitally in 2020?
Why Tesla?
I've been following Tesla since 2012, and the ups and downs, plus the innovation over the years shows me that they are building a product that is ready for the next generation. I've seen others try, from entrepreneurs like those from Coda to big-companies and the products they produce aren't innovative and are just the same (not only from the looks, but also the guts).