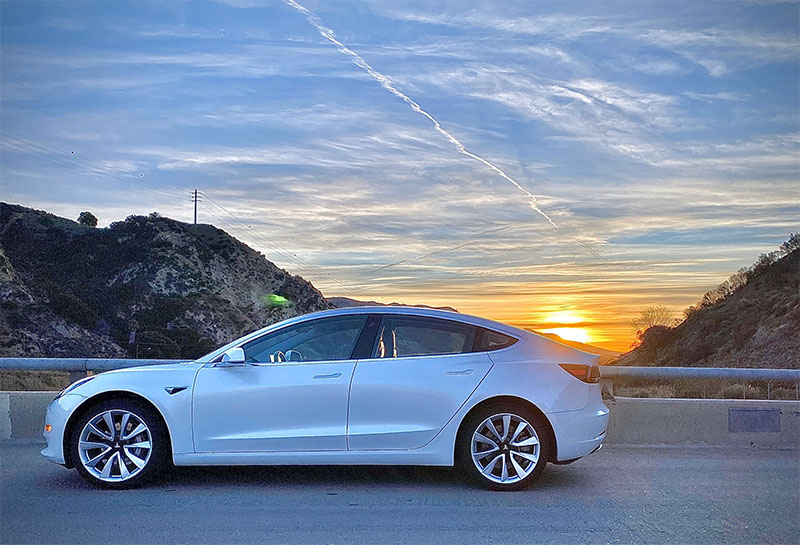 Denise (@mymodl3)

---
This is part of our 100 issue celebration publication where we pay tribute to the Tesla community by sharing just a few of the stories that brought us all here.
---
Hi, my name is Denise and I have a Pearl White Model 3 called Cloud 9.
The first time I drove a Tesla...
First time I drove a Tesla was when I picked up my car on delivery day, Dec. 1, 2017. I didn't know a single person who had one, but had followed Tesla from the early days and knew I really wanted one. I was a little nervous about driving it, but felt comfortable behind the wheel before I even reached the street.
Favorite thing about my car
This is too difficult to answer. I'm in love with the look of the car which is why I highlight photos of Teslas. But I love Autopilot/FSD, the sound system, and the feel on the road.
Least favorite thing about my car
Being without it when it goes into service. I'm not a fan of Uber credits and I go into withdrawals without my car.
I wish my Tesla had...
Heated steering wheel and 360 view. I have cold hands in the morning and use autopilot so I can sit on a hand to warm it.
My favorite accessory
Bandit license plate and tumbler
If I could ask Elon Musk one question, that would be...
What was it about the way he was raised that allowed him to believe he could change the world.
Why Tesla?
This is hard to put into words. Ultimately because of the mission. I believe we need to makes changes to how we treat our world and Tesla allows us to do this without giving up our standard of life. To state a cliche, I can have my cake and eat it too.