A few issues ago we included videos of how AP2 sees the world. Now, thanks to verygreen and DamianXVI there is a more up-to-date and better version. It's pretty awesome to be able to see what the car sees, this is a rare opportunity since it isn't a marketing video. We recommend you to watch the videos and read - at least - the original post since it has a lot of interesting info. A few highlights:
AP identifies motorcycles, trucks, and pedestrians. Tesla doesn't show them just yet but it is showing motorcycles in v9
The car identifies lanes and turns with no actual road markings
AP predicts how the road behind a hill crest is going to be
While it doesn't render 3D boxes, it detects vehicles, speed, and direction
The car is continuously calculating all these, no matter if AP is on or off. Some of this state could be matched from the «triggers» to cause snapshots to be generated and sent back to Tesla. But verygreen doesn't seem to think it actually compares this model to the actual driving input at this time.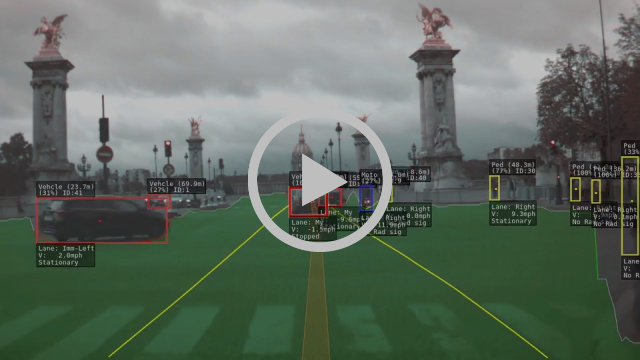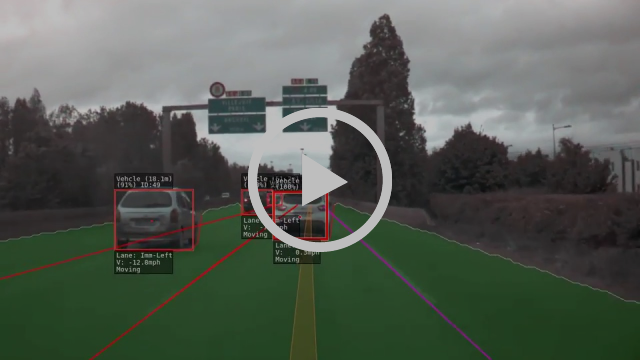 Read more: TMC Forum
Here are the highlights from the release notes and pictures:
Model 3 gets calendar integration, energy graph, and web browser.
EAP includes «Navigate on Autopilot» (restricted to the US for now). When active, a single blue line indicates the path ahead, keeping your car in the lane. Gray lines highlight lane changes for a more efficient driving route. Navigate on Autopilot will also automatically steer toward and take the correct highway interchanges and exits based on your destination.
Start navigation on your car by using the share button in your favorite apps on iOS. A.K.A. send addresses to the car!
Passengers can control the media and cycle through their media favorites.
Whenever there's a software update available for your vehicle, you can conveniently start the update from your phone.
Atari games.
New application launcher that brings all the apps together in one place.
No trace of the dash cam feature (but keep reading) :)
Only in US, Canada, and Mexico: To improve Navigation's ability to provide relevant instructions, select whether or not your vehicle is eligible for high-occupancy vehicle (HOV) lanes. When enabled, Navigation routes you though HOV lanes. When disabled, Navigation avoids routing you through HOV lanes.
We can't wait for v9 to be released to the people which according to a recent tweet from Elon can be as soon as at the end of the week!
All the release notes with all the variations by version and territory can be found here.
Read more: Twitter
---
A couple of weeks ago we talked about an awesome body repair experience at Tesla Atlanta. According to Elon Musk's tweet the motivation behind this decision is to improve customer satsfaction as third parties usually take weeks to months for repairs. Yay Tesla.
Read more: Twitter
---
The idle fee update will impact all Model S, Model X, and Model 3 drivers, current idle fee is $0.40/minute and it was updated on Sep 19th as follows:
Supercharger 50% occupied: $0.50/minute idle fee
Supercharger 100% occupied: $1.00/minute idle fee
Additionally, Tesla has begun to roll out an over-the-air software update (not Version 9) that will include a new in-car payment feature. Please be a good citizen and move your car if the Supercharger is semi busy so other people can charge!
Read more: Teslarati
---
Not sure if this is a popular decision or not (check out Electrek's survey)… but it seems like key fob is finally coming for Model 3, as confirmed by Elon Musk on Twitter.
Read more: Electrek
---
The leaked images of v9 don't have any trace of the promised dash cam (https://twitter.com/elonmusk/status/1041826260115120128?s=21). However, according to Electrek's source, there are two versions of the new update rolling out. Here are some details:
This feature would only be available in vehicles with AP2.5
You need a small USB flash drive and it needs to be formatted in FAT32
When recording, it seems it records for an hour before overwriting old videos
Reading the notes my take is this is an MVP, in the future I'd assume that they'll include things like cloud storage, more than one hour of video, recording when the car is in park, etc. As a software person myself I like iterative development and I hope they keep on adding to it in the near future.
Read more: Electrek
---
Check it out to chat with other tesla owners and don't forget to join your your city's channel
---
SwissFamilyTesla got his referral award Signature Black Wall Connector a few weeks ago. He got confirmation from Tesla that it is the first one delivered in Switzerland.
---
Useful spreadsheet comparing the different loan options for Teslas out there. Take a look if you are financing soon!
Read more: Spreadsheet
---
What the acronym?
As Tesla fan, I find myself sometimes having to remember what are all those acronyms, here is a list of the ones you can find in this issue.
UI - User Interface
V9 - Next version of the firmware of the car
AP - AutoPilot
AP1 - Autopilot hardware released after late September 2014 and before October 2016
AP2 - Autopilot hardware released after October 2016 and before August 2017
AP2.5 - Autopilot hardware released after August 2017
EAP - Enhanced AutoPilot
IC - Instrument Cluster
TL;DR - too long; didn't read
MVP - Minimum Viable Product
---
Do you like Tesletter? Help us reaching out to more people
If this newsletter was useful to you in any way, please consider using our referral code to get free, unlimited Supercharging when you get a Tesla: http://ts.la/ignacio9266